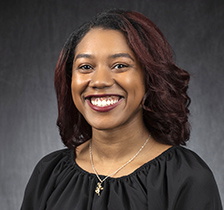 Mirakal Jackson
Academic Advisor I
Master of Public Administration (in progress)




Valdosta State University

B.A. Art




Valdosta State University
Advising Areas: History, Online Psychology, Online Criminal Justice, and Organizational Leadership
Mirakal Jackson
 is an alumna of 
Valdosta 
State University. She graduated with a Bachelor of Arts in Art and a triple minor in Entrepreneurship, Psychology, and Aerospace Studies (military leadership). To gain experience in business management, she started her own business, 
Walking 
in Mirakals Art Company. For about ten years, she has been in countless leadership roles while also remaining in the top 5% of her class. These roles include but are not limited to, a two-year Resident Assistant, Flight Commander in AFROTC, Parliamentarian and Senator of Student Government Association, Homecoming Queen, and two-year President of the Caribbean Student Association (CaribSA). Her short life has been a showcase of excellence and professionalism. 
Not only is she a powerhouse in the academic and extracurricular arena, but in the community as well. She funnels diverse resources to serve the needs of those around her. As a volunteer, she has served over 200 hours of community service within a span of four years. 
She has been able to serve her community by mentoring the youth, promoting diversity and inclusion, advocating for voter registration, empowering domestic violence and sexual assault survivors, celebrating equality and beauty with people with impairments, donating artwork, and more. 
Most importantly, she has continuously learned what it means to uphold integrity, compassion, civility, and pride in who she is. Her activeness in the community has granted her the opportunity to earn scholarships and awards, but that credit is shared with her partner, peers, and mentors within her support system. 
All in all
, Jackson strives to help people grow and understands the importance of a strong support system. Without it, she may not have been able to overcome life challenges. She loves being of service and has the best interest of her students and mentees at heart. 
She is currently a candidate in the Master of Public Administration program. Her art portfolio directly aligns with her public administration career goal: uniting communities by igniting healthy conversations about the relevance of diversity and inclusion, mutual respect, welfare, local resources, mentorship, belongingness, equality, and understanding. 
In society, recognizing the uniqueness of individual differences is the key to embracing positive change. This recognition will loosen tension in communities and allow meaningful conversations about reform. 
In her free time, she enjoys playing strategy games, listening to music, painting, and writing poetry.