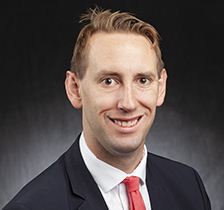 Blair Thomas
Associate Professor
BA




University of Portland

MPH




Portland State University

MPA




Florida State University

PhD




Florida State University
Dr. Blair Thomas is an Assistant Professor in the Department of Political Science at Valdosta State University. His research interests broadly focus on how local governments and nonprofits engage in marketing and branding from a strategic management perspective. Other interests also include health policy, public management and exploring issues within the intersection of race, sport and public administration. His work appears in Administration & Society, Administrative Theory & Practice, American Review of Public Administration, Journal of Nonprofit & Public Sector Marketing, Public Administration, Public Administration Review and Public Performance & Management Review. 
In the classroom, Dr. Thomas is an award-winning instructor with teaching experience at several institutions including Florida State University, the University of Central Florida and Portland State University. Driven by a teaching philosophy that values the continual development of personal relationships to identify student passions, Dr. Thomas aims to cultivate a classroom that builds upon the basic tenants of public administration theory by infusing examples of real-world application with references to the impact that pop culture, social movements and sport have made on today's policies. He tailors each course to meet the changing demands of each particular class culture while upholding a commitment to social equity.
Dr. Thomas has served on numerous boards and commissions, most recently on the Leon County (FL) Affordable Housing Advisory Committee and notably as Secretary of the Oregon Governor's Council on Physical Fitness and Sports from 2010 to 2012. Prior to pursuing his graduate education, Dr. Thomas worked in marketing and merchandising for Adidas America- CIP Marketing, from 2007 to 2010.
A native of Portland, Ore. you will likely catch him discussing the plight of the Portland Trail Blazers, riffing about how to infuse the latest trends in sport fashion into academia or his constant search for the perfect hazelnut latte. Dr. Thomas received his Ph.D. and M.P.A. from the Askew School of Public Administration and Policy at Florida State University and also holds a M.P.H. from the Hatfield School of Government at Portland State University. Dr. Thomas received his B.A. in Political Science from the University of Portland.
You can follow him on Instagram @mblairthomas, on Twitter @mblairthomas or reach him via LinkedIn @mblairthomas or at www.blairthomas.com