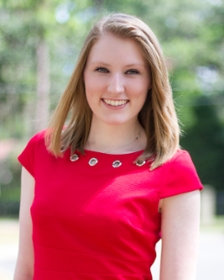 Megan Hancock
Student Services Coordinator | Dual Enrollment
B.A. Degree with a Major in Sociology




Valdosta State University

M. Ed. Degree with a Major in Higher Education Administration




Georgia Southern University
Hometown: Peachtree City, GA
When I stepped onto campus, I fell in love! During my time at VSU, I served as a Resident Assistant for three years, part of the National Residence Hall Honorary, and as a University Ambassador, and there are still so many other opportunities for involvement. The unique classroom sizes enhanced my learning experience and took it to the next level! The small class sizes give you a hands-on learning experience that few other universities can offer. My wish for you is that you would get involved in something you love and excel in the classroom, and I have no doubt you will do all of that and more here at Valdosta State.
Favorite Spot on Campus: The front lawn is my favorite spot on campus! The front lawn is one of the many hotspots on campus. From attending concerts on the front lawn to just relaxing in my Eno between the palm trees. It is a great place to just get away and relax!
Best Advice for Incoming Students: GET INVOLVED! Getting involved on campus is the best way to meet to new people and to build a network. You can get involved with student life, student employment, intramurals, and so much more! There is something for you here at Valdosta State University!