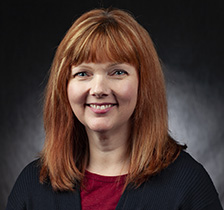 Mary Ann Redhage
Academic Advisor I
Communications, B.S.




St. Mary's College

Broadcast Arts Diploma




Specs Howard School of Broadcast Arts
Year started working at VSU: 2019
Why I love advising: I get to hang out with college students all day!  But seriously, I enjoy helping students plan their courses, but more importantly navigate college life and reach their full potential.
Hometown: Detroit, Michigan
Hobbies/interests: Musical Theatre, Singing, hula hooping
Fun fact: I used to teach a hoop dance/hula hoop fitness class in Michigan before I moved to Valdosta in 2016
Why VSU: I have worked in Higher Ed in many roles (Admissions, high school recruiting, financial aid) and once I landed in Valdosta, I heard so many great things about VSU…therefore I knew that I needed to work here.
Areas/Program I advise: ASL/English Interpreting, Deaf Education, and Communication Sciences and Disorders
Education Center room 1020