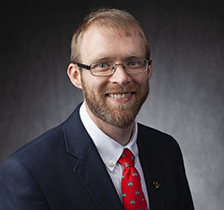 Matthew McIntyre
Academic Advisor I
M.Ed. Higher Education Leadership




Valdosta State University

B.A. in Psychology




Valdosta State University

A.A in Psychology




Abraham Baldwin Agricultural College
Year started working at VSU: 2014
Hometown: Irwinville, GA
Hobbies/interests: Running, Photography
Fun fact: In middle school I played the trombone.
Why VSU: After receiving my Associates of Arts degree I wanted to transfer somewhere to continue my education but did not want to transfer to a very large school where I would be just a number. I chose VSU because of its class size and its proximity to home.
Areas/Program I advised:  Langdale College of Business Administration.  Majors include: Accounting, Economics, Finance, Healthcare Administration, International Business, Marketing, & Management.
What I love about advising: It provide an opportunity to make a positive impact on people's lives. I also work with a great group of people.