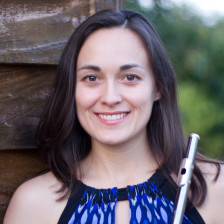 Lindsay Sparks
Assistant Professor of Flute
Doctor of Musical Arts




University of Cincinnati
Originally from Pittsburgh, Pa., Lindsay Leach Sparks is the newly appointed Assistant Professor of Flute at Valdosta State University.

Dr. Sparks enjoys a varied performance and teaching career in the U.S and abroad having given recitals in Europe, North America, and Asia. As a soloist, she has been featured with the University of Akron Symphony Orchestra, the Fayetteville Symphony Orchestra, the Royal Academy Modern Instrument Baroque Orchestra, the Adastra Ensemble, the W.S. Newman Series Ensembles, and in recital at Le Musée d'Art Moderne et d'Art Contemporain in Nice, France. She has been honored in the Jean-Pierre Rampal International Flute Competition in Paris, the Maxence Larrieu International Flute Competition in Nice, and the National Flute Association's Young Artist, Piccolo Artist, and Baroque Artist competitions. In 2010, she was one of two American representatives in the Beijing Nicolet International Flute Competition in China. An avid orchestral musician, she is principal flute of the Valdosta Symphony and piccolo with the Symphony Orchestra Augusta.

Prior to her appointment in Valdosta, Dr. Sparks served in similar roles at the University of Akron and the University of North Carolina at Chapel Hill. She has had extensive experience as an online educator, serving as the Online Professor of Jazz History and World Music in the graduate school at Rutgers University and Music Instructional Leader for the North Carolina Virtual Public School, creating the online music programs at both institutions. She was a recipient of the PEO Scholar Award as well as the North Carolina Arts Council's Regional Artist Grant (funding from the state of North Carolina and local arts councils in Cumberland, Lee, Moore, New Hanover, Harnett and Richmond counties), through which she had the opportunity to produce her first solo flute CD "One of a Kind" with London-based pianist Philip Richardson. In 2015, the Orange County Arts Council Artist Grant helped in part to fund her latest chamber recording, expanding her doctoral research, "Rediscovering Hugo Kauder" currently available on the Albany label.

Dr. Sparks is the current coordinator of the High School Flute Choir Competition for the National Flute Association, and in 2020, her and husband, violinist Michael Sparks, formed the non-profit Sparks Creative where they offer private and group lessons and music theory classes. She holds degrees from the Peabody Conservatory (BM: Flute and MM: Piccolo), the Royal Academy of Music (PG Diploma), and the Cincinnati College-Conservatory of Music (DMA), and her European studies culminated at the Académie International d'Eté de Nice, France with Philippe Bernold. Her major teachers are Laurie Sokoloff, Clare Southworth, and Randy Bowman.