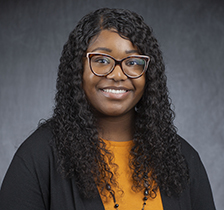 Leola Sharp currently serves as the administrator for the VSU Career Opportunities & Volunteer Service Department. Leola holds a Bachelor of Science in Organizational Leadership from Valdosta State University and an Associate of Science in Business Administration from South Georgia State College. Leola is currently pursuing a Master of Public Administration at Valdosta State University.
Leola started her career at Valdosta State University as the accounting administrative assistant for the VSU Foundation, where she served for four years. As the administrator for VSU Career, she serves as primary support for the team and manages and coordinates all day-to-day operations. Leola is passionate about student success and uses her experience to motivate and encourage students on a daily basis.
Leola was born and raised in Statenville, Georgia. She lives in Valdosta, Georgia, with her husband and four children. When she's not in the office, Leola loves to spend time with her family, travel, and volunteer within her community.
Certifications and Recognitions
Certificate - Blazer Leadership Conference 2021
Certificate - Fundamental of Supervision and Management 2019
Dean's List Fall 2011, Fall 2020, Fall and Spring 2022
Caught You Caring Award 2021
Monday-Thursday 8AM-5:30PM
Fridays 8AM- 3PM
Career Counselor for the College of Business, College of Nursing and Health Sciences,
College of Science and Math, Social Work, and Speech-Language Pathology.
To schedule an appointment Click Here