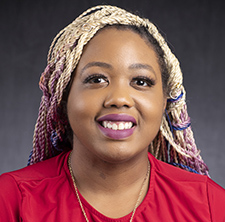 Keishaunda Haynes
CoA/Advising Graduate Assistant
Candidate - Master of Arts - Communication Arts




Valdosta State University

Bachelor of Fine Arts - Interdisciplinary Studies




Valdosta State University
Hometown: Valdosta,Ga

Hobbies: Photography, Traveling, Studying and Researching about the Arts, Latin Social Dancing, Spending Time with my Love Ones

Fun Facts: I am the Founder and Managing Partner of Kei's, LLC. I have plans to start my own non-profit organization "We, the Creatives." I have a dog name Dobby, (yes, from Harry Potter). My favorite color is blue (any shade).  And I love giving out quotes of the day.