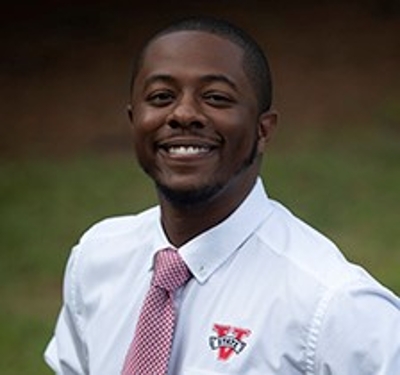 James Sampson
Middle Georgia Admissions Counselor
B.FA Degree with a Major in Communications - Track in Public Relations




Valdosta State University



Hometown: Monticello, Georgia
About:
Moving to Valdosta was an exciting experience for me. I'm from a very small town near middle Georgia, so moving to the city of Valdosta has been very welcoming. During my time at VSU, I was a member of the Drumline and had the honor to serve as Drum Major for the Blazin' Brigade Marching Band. I gained a very unique opportunity to truly experience the Blazer Nation spirit first hand. Valdosta State will give you the opportunity to create your own story and leave a legacy in a city without limits.
Best Advice:
Get involved!!! Seek out an organization that matches your interest. We have over 200 to choose from. Joining a club or organization allows you to create even more lifelong friendships and memories.
Favorite Spot on Campus:
Our beautiful front lawn - the peaceful ambience is completely mesmerizing. You can enjoy listening to the water fountain which creates an environment that doesn't compare to other institutions. The front lawn is also where you can enjoy playing soccer, frisbee, finish reading a book in a hammock, or simply enjoy the endless opportunities that our famous front lawn has to offer.