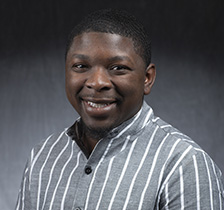 Joshua Rivers
CoA Academic Advisor (Last Names I-S)
Master of Arts | Commercial Music & Jazz Studies




Florida State University

Bachelor of Music | Music Performance, Jazz Piano




Valdosta State University
---
Areas/Programs I advise: (All CoA Departments: Art & Design, Communication Arts, Music)
-- Marie Dison (Last Names A-H)
-- Joshua Rivers (Last Names I-S)
-- Alicia Roberson (Last Names T-Z & Athletes)
Year started working at VSU:  I started working for VSU in 2022
Why I love advising: I believe advising can prove to be a beneficial resource for any student wanting to be successful in their academic pursuits. I am appreciative of the opportunity to serve as a guiding voice for students, helping to empower them with the tools needed to achieve their goals. 
Hometown: Valdosta, GA
Hobbies/interests: I am a Jazz/R&B/Gospel pianist who also enjoys producing and writing songs.  I enjoy reading inspirational books and watching historical movies and documentaries. 
Fun fact: I have traveled to Israel with a young black leader group.
Why VSU: VSU has served as my collegiate home, and I am elated about returning to serve the student body. VSU is a thriving institution with a diverse culture in which all students from various backgrounds can grow and achieve. I had a wonderful experience as a student, and I hope to be a part of another student's enriching educational journey.