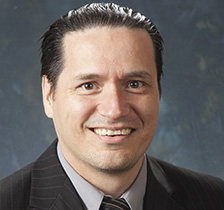 Dr. James Martinez
Undergraduate and Graduate Programs
James Martínez is a professor of education at Valdosta State University. A growing Latino scholar, and as a Chicano who lives in the space between the hyphen in "Mexican-American" (Martínez, 2016), Dr. Martínez prefers the term Chicano to imply being "neither from here, nor from there" in reference to the United States and Mexico (Martínez, 2020).

Dr. Martínez received his doctorate in Education and Sociology from the University of Missouri-Kansas City. James is a professor and program coordinator in the department of Teacher Education. He was a teacher and sports coach of football, basketball and track for over a decade in rural, inner-city, and urban profile public schools. Dr. Martínez is a supervisor of student teachers and taught undergraduate classes related to classroom management and differentiated multicultural education instruction, and graduate courses addressing educational law, research methodology, critical pedagogy, racial/ethnic inequality, and equity literacy.

Dr Martínez is an EIC/Associate Editor for The Urban Review and has published articles and reviews focused upon critical race studies and Latinx education, schooling in urban and rural education, with a particular emphasis on middle grades education, youth gang risk factors, education innovation, and immigration reform. James enjoys traveling with his family, playing basketball, and attending VSU and professional sports events.