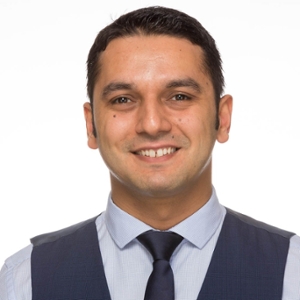 Dr. Huzeyfe Cakmakci
Assistant Professor, Counselor Education
Education
---
Doctor of Philosophy (2014- 19), Counseling and Counselor Education (CACREP), School of Human Development and Organizational Studies in Education, University of Florida, Gainesville, FL, U.S. Specialized in Research and Evaluation Methodology (Quantitative Research)                 Advisor: Dr. Sondra Smith-Adcock.
Master of Education (2012-14), Counselor Education in School Counseling (CACREP), University of North Florida, Jacksonville, FL, U.S.  Certificated School Counselor in the State of Florida.             Advisor: Dr. Carolyn Stone.
English as a Second Language Program (2011-12), Non-degree seeking student, University of Wisconsin-Madison, Madison, WI, U.S.
Bachelor of Science (2005-09), Guidance and Psychological Counseling, Department of Education, Uludag University, Bursa, Turkey Certified Counselor in Turkey.
Selected Publications
---
Su, Y.-W., Doty, J., Polley, B. R., Cakmakci, H., Swank, J., & Sickels, A. (2021). Collaborating With Families to Address Cyberbullying: Exploring School Counselors' Lived Experiences. Professional School Counseling. https://doi.org/10.1177/2156759X211053825
Cakmakci, H (2019). Examining the Relationship among Bullying Victimization, Parental Support, Teachers` Unfair Treatment, and Belonging at School Using Structural Equation Modeling. The dissertation was accepted by the University of Florida graduate school in April 2019. https://ufdcimages.uflib.ufl.edu/UF/E0/05/40/00/00001/CAKMAKCI_H.pdf
Isik-Ercan, Z., Demir-Dagdas, T., Cakmakci, H., Cava-Tadik, Y., & Intepe-Tingir, S. (2016). Multidisciplinary perspectives towards the education of young low-income immigrant children. Early Child Development and Care, 187(9), 1413-1432. https://doi.org/10.1080/03004430.2016.1173037    
Uysal, H., & Cakmakci, H. (2016). Insight into educational aspects of formulaic language for multicultural counseling. Pedagogical Forum, 6(2/2), 289-303. https://doi.org/10.21697/fp.2016.2.44
Translated Book Chapter
---
Thomas, D., & Brown, J. S. (2016). Yeni nesil öğrenme kültürü: Sürekli değişen bir dünya için hayal gücü yetiştirmek [A new culture of learning: Cultivating the imagination for a world of constant change] (H. Uysal, Ed. & Trans.; A. Sığın, İ. Çelik, H. Çakmakcı, M. Özdemir, S. Bilgin, & A. Güven, Trans.). Ankara, Turkey: Pegem Akademi. (Original work published 2011).
Honors & Awards
---
Chi Sigma Iota, Gamma Nu Chapter, Outstanding Chapter Award (2022).  Valdosta State University`s Gamma Nu Chapter was selected for the Outstanding Chapter award for the exemplary activities and programs. Only one award is given among small chapters and one award is given for large chapters in the nation. The chapter earned the award by being nominated for its activities and accomplishments within the past two years (role: chapter faculty advisor 2019- present).
College of Education International Student Certificate of Excellence (2018). Outstanding international student award was received from UF College of Education and UF International Student Center, Gainesville, FL. The award recognizes outstanding academic achievement, commitment to service, leadership and contributions to the College of Education, International and University communities.
People's Choice Poster Award (2018) was received from UF Division of Student Affairs for the poster titled "Exploring the impact of student affairs on student learning or student achievement throughout empirical studies: A systematic analysis of literature".
Certificate of Appreciation (2011), (Project Name: Istanbul Reads for Turkey, Role: Project Coordinator) Istanbul Governor, Istanbul, Turkey
Certificate of Achievement (2010), Istanbul 2010 European Capital of Culture, Our Values, Project Coordinator, Bagcilar District Governor, Istanbul, Turkey
Office Hours:

Monday: 2:00 pm - 4:00 pm
Tuesday:10:00 pm-4:30 pm
Wednesday:4:00 pm-7:00 pm (virtual)
Thursday:12:00 pm - 2:00 pm (virtual)

Converse 2111