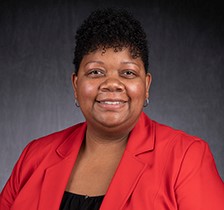 Dr. Felicia Hilson
Curriculum & Instruction, M.S., Sociology, Criminal Justice
Ph.D. in Curriculum and Instruction




Valdosta State University

M.S. in Sociology




Valdosta State University

M.S. in Criminal Justice




Valdosta State University

B.A. in Criminal Justice




Valdosta State University
Felicia Hilson is a proud alumnus of Valdosta State University. Dr. Hilson received a Bachelor of Arts in Criminal Justices in 2001, a Master of Science in Criminal Justice in 2003, a Master of Science in Sociology in 2005, and a Doctor of Education in Curriculum and Instruction in 2014.  Dr. Hilson began her teaching career at Valdosta State University in 2004, teaching in the areas of the Criminal Justice System, Race, Class, Gender, Sociology, and Social Work. Dr. Hilson's academic interest include racial injustice, social poverty, sexism, gender discrimination, adolescent parenthood, and educational reform.  
Dr. Hilson is a member of Delta Sigma Theta Sorority, Incorporated, Order of the Eastern Stars, and Alpha Kappa Delta Honor Society. She is a certified Diversity Trainer. Dr. Hilson is an avid University of Tennessee Women's Basketball and Pat Summitt fan. Dr. Hilson is a strong supporter of the Fight to End Alzheimer's. Dr. Hilson enjoys reading, traveling, gardening, and tent camping. She is the proud mother of a daughter.  
Dr. Hilson was employed with Valdosta State University for nearly 18 years before transitioning into elementary education.   
Pronouns: She/Her/Hers 
"Education is the most powerful weapon which you can use to change the world." Nelson Mandela