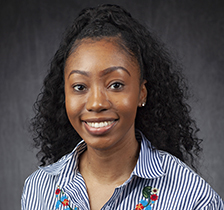 Erica Almond
Academic Advisor I
Year started working at VSU: 2017
Why I love advising: For me, my advisor made the difference in my undergrad career. It was my advisor who reassured me that finishing college was a realistic goal and not just a dream.
Hometown: Vienna, GA
Hobbies/interests: Wine tasting, watching documentaries, Pinterest
Fun fact: I could watch Hallmark Christmas movies year-round!
Why VSU: VSU has always felt like home for me. I have been here since I was 18 and it has taught me so many things. It feels good to serve at the institution that played such a vital role in my young adult years.
Areas/Program I advise: Computer Science, Computer Information Systems, and Environmental Geo sciences