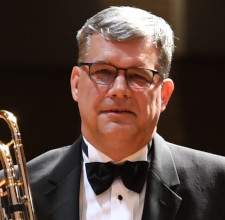 Doug Farwell
Trombone
Doctor of Musical Arts




The University of Illinois
Doug Farwell is currently Professor of Trombone at Valdosta State University. He also serves as Executive Director of the Valdosta Symphony Orchestra and served as Assistant Dean for the College of the Arts for five years. He holds a DMA from the University of Illinois, MM from the State University of New York at Stony Brook, and BM from the North Carolina School of the Arts. He has taught on the faculty at VSU, University of Missouri-Kansas City Conservatory of Music, Eastern Illinois University, and has held Graduate Teaching Assistantships at the University of Illinois and SUNY Stony Brook.

In addition to his teaching and administrative duties, for over 25 years, he has served as the principal trombonist with the Albany and Valdosta Symphony Orchestras and a substitute with other regional orchestras. Over the past several years he has served as an adjudicator for various International Trombone Festival solo competitions. Additionally, he has served as an adjudicator at the American Trombone Workshop in Washington DC. His students have won International and National Solo competitions for MTNA, ATW and ITF, as well as appearing in the Zellmer finals competition.

For the past seven summers he has performed as a member of the Southeastern Professor's Trombone Choir and was featured with the Professors Choir at the International Trombone Festival in Columbus. He can be heard on the 2017 CD release of Legacy on Peer2Peer label. He also has been a featured soloist with both the Albany and Valdosta Symphony Orchestras performing the Ewazen Concerto in 2005 and 2006 and Milhaud's Concerto d'hiver with the ASO.

He performs regularly with the Faculty Jazz Combo and Faculty Brass Quintets at VSU and conducts the VSU Trombone Ensemble. In the summers, he has taught as the brass instructor for the Georgia Governor's Honors Program and served as musical director for the Georgia Peach State Summer Theatre and VSU Theatre conducting: Beauty and the Beast, Gypsy, Sweeney Todd, A Funny thing happened on the way to the forum and Crazy for You.

From 2004-2013, he performed as one of the founding members of the Continental Trombone Quartet, a professional quartet that appeared regularly at regional, national and international conferences and festivals. CTQ's final appearances included a performance with the University of Missouri-Columbia Wind Ensemble in February of 2013 and as special guest artists for the 2013 Eastern Trombone Workshop on the final concert Saturday, March, 23 at 7:30 pm with the US Army Band. CTQ also was a featured soloist in Reno, NV in March of 2012 for the Western CBDNA, performing Eric Richard's concerto commissioned by CTQ with the University of Wyoming Wind Ensemble. Their first full length cd titled CTQ is available from www.hickeys.com. This cd features works commissioned for CTQ and includes special guests Radegundis Feitosa Nunes and Jim Pugh.CTQ can also be heard playing "Nature Is..." on the Albany Records release: TROY955 Nature Is... The Music of Cindy Cox.

As a Getzen/Artist clinician, Dr. Farwell performs recitals and clinics across the United States. Dr. Farwell has performed in over 24 professional orchestras in nine different states and has also performed with numerous chamber and jazz/commercial ensembles. A few of those groups include: Jimmy Dorsey Orchestra; VSU Jazz Ensemble, Ed Barr Big Band; Jack Heard Big Band; Georgia All-Star Director's Big Band; Ice Capades; P.T.L Show at Heritage U.S.A.; Ron Rudkin Big Band and NCSA Combo; N.C School of the Arts Big Band; University of Texas Arlington Jazz Band, Roanoke Summer Music Festival with NCSA combo.
A partial listing of artists he has appeared with includes: George Burns, Bob Hope, Tommy Tune, Ray Charles, Mitzi Gaynor, Debbie Reynolds, Pete Christlieb, Michael Davis, Vincent D'Martino, John Fedchock, Lenny Pickett, Pied-Pippers, Bill Reichenbach, John Kenny.