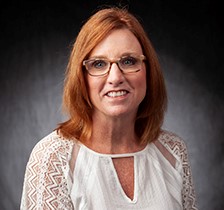 Cheri Tillman
Director of College of Honors & Exploratory Studies Advising Center
Ed.D. Educational Leadership Higher Education




University of Sarasota, Sarasota, FL (2004)

M.Ed. Early Childhood Education




Valdosta State University, Valdosta GA (1992)

B.S.Ed. Early Childhood Education




Valdosta State University, Valdosta GA (1985)
Year started working at VSU: 1992
Why I love advising: I have been working with college students for over 25 years, and I love the different relationships that I form with these students. I strive to really get to know my students. I want to know about their family, interests, and their college and life experiences. I see advising as a partnership between me, the advisor, and the student. We work together to make decisions, overcome obstacles; we try to handle anything that life throws at us. Advising is a huge responsibility. Every student I meet, I have an effect on him/her whether I see it or not. I have a chance to help someone improve their life. I cannot think of anything more special than helping change a life for the better.
Hometown: Valdosta, GA
Hobbies/interests: Tennis, bridge, fishing & hunting
Fun fact: I won a gold medal on the balance beam, silver medal on vault and bronze medal for all-around in a state of Georgia gymnastics meet.
Why VSU: I was born and raised in Valdosta and graduated from VSU. I had a great college experience here, and I wanted to help make VSU an even better college to attend. I love VSU! Go Blazers!!
Areas/Program I advise: Exploratory (undecided)
Honors house (Georgia Ave)