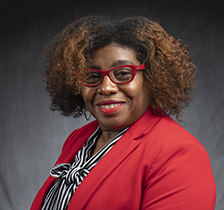 Carla Carter Jordan
Director
MPA




Valdosta State University
Carla is a graduate of Valdosta State University with a Master of Public Administration and Bachelor of Fine Arts degree in Communications. She joined the Valdosta State University community in 2007. She is currently the Director of Career Opportunities managing the Career Counseling program. Prior to her role as a career counselor she managed the Employer Relations and Cooperative Education/Internship Program.
She has over 20 years of professional experience within Georgia State Government which includes Department of Family and Children Services, Department of Adult and Technical Education (Technical System of Georgia), The Office of the Secretary of State in the Elections Division. During her career she has assisted families to reunite, displace homemakers as well as students to find new careers and educate citizens on the importance of voting.
Carla has received the 2015 Greek Advisor of the Year for VSU; 2014 Community Bethune Leadership award from the NCN W Valdosta Lowndes Metropolitan Section; the 2014Excellence in Teaching Award from the National Society of Leadership and Success; and the 2009 Metro Valdosta Emerging Leaders award from the Valdosta-Lowndes Chamber of Commerce. Carla serves her community as the Board Member of the Lowndes County Board of Elections and Secretary for the Greater Valdosta United Way Board of Directors and President of the South Georgia Chapter of Valdosta State University Alumni Association. She is also a member of Delta Sigma Theta Sorority Inc. Valdosta Alumnae Chapter. She has served as a member of the Regional Leadership Team's Chaplain Council and Arts and Letters Committee as well as the Advisor for Theta Tau Chapter of Delta Sigma Theta Sorority Inc. She has also served as the Keynote/Motivational Speaker for community organizations such as the SELFIE Conference for NCNW and Educational Talent Search/Trio Program at Valdosta State University as well as Brooks County High School's Black History Program. She is also a member of member of Leadership Lowndes Class of 2009. 
Monday-Thursday 8AM-5:30PM
Fridays 8AM- 3PM