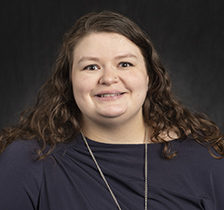 Britt-Marie Piper
Academic Advisor I
M.S. Sociology (2013)




Valdosta State University

B.A. Sociology and Anthropology (2011)




Valdosta State University

A.A. Sociology (2010)




Bainbridge College
Year I started working at VSU: 2020


Why I love advising: I want to make a difference in the lives of students and help them to chase down their dreams. 


Hometown: Bainbridge, GA


Hobbies/Interests: Culinary, Video Games, Sewing, Dungeons and Dragons, Gardening.


Fun Fact: I am an Anglophile and want to visit the British Isles one day. 


Why VSU: VSU is my alma mater. I am immensely proud to have graduated from VSU and want to help show off South Georgia's shining jewel of a University.