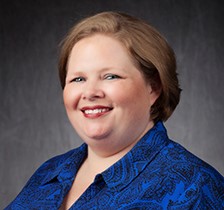 Beverly Cribbs
Program Coordinator
PhD. Higher Education Administration (currently enrolled)




University of Florida

M.Ed. School Counseling




University of North Florida, Jacksonville, FL (2010)

M.Ed. Student Personnel in Higher Education




University of Florida, Gainesville, FL (2003)

B.A. English




University of North Florida, Jacksonville, FL (2001)
Year started at VSU: 2017
What I love about my job: I love watching students "figure it out," and I am proud to be a part of that process. The college journey is full of potential pitfalls, and it is rewarding to help students navigate them or help get back on track after running into those challenges. Ultimately, my job is fun and rewarding. I get to help incredible individuals reach their goals.
Hometown: Jacksonville, FL
Hobbies/interests: Travel, exploring local restaurants, crochet, painting pottery, watching football, shopping yard sales/thrift stores, watching too much television
Fun fact: I was in the newspaper as a baby for winning a Beautiful Baby contest in my town.
Why VSU: VSU has the strongest sense of community across campus that I have experienced at any institution. I was welcomed as a part of the Blazer family from my first day.
Areas/Programs I advise: First-Year Programs, Ignite