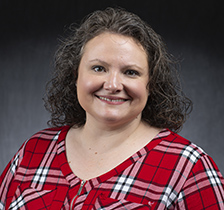 Alicia Roberson
Senior Advising Officer
Ed.D. Education in Leadership




Valdosta State University, Valdosta, GA

M.S. Marriage and Family Therapy




Valdosta State University, Valdosta, GA (2005)

B.F.A. Speech Communications




Valdosta State University, Valdosta, GA (2003)
Year started working at VSU: 2000 as a student worker and 2005 as a professional
Why I love advising: I love advising because of the opportunity to build relationships with students during a time in their lives in which they are dreaming and discovering who they are as individuals and how that fits into what they want to do with their lives. I believe a college education changes people and families. A quote that hung in my grandmother's office, my dad's office and now my office says, "...to know even one life has breathed easier because you have lived. This is to have succeeded." I know when I get up and come to work every day, I have the opportunity to help others grow and grow myself from working with our students.
Hometown: Vidalia, GA
Hobbies/interests: Crossfit and cooking
Fun fact: I have been Big Bird, Smokey the Bear, and Yumion the Vidalia Onion.
Why VSU: I fell in love with this place the day I set foot on the campus in the 9th grade on a tour. I transitioned into adulthood here and learned that higher education truly transforms individual and families. I get to be a part of changing lives every day of my life. On the flip side of that, I get to keep learning and growing because of the faculty, staff and students I interact with as part of the VSU family.