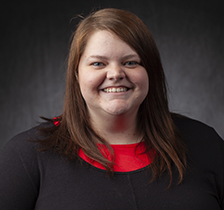 Ashleigh Stevens
Senior Advising Officer
Marriage and Family Therapy, M.S.




Valdosta State University

Psychology, B.S.




Valdosta State University
Year started working at VSU: 2018
Why I love advising: I love getting to know our students and collaborating with them to help achieve their goals.
Hometown: Valdosta, GA 
Hobbies/interests: Anything crafty
Fun fact: I have worked at VSU as a student, graduate student, and professional. All positions have been in the same office.
Why VSU: Growing up in Valdosta my plan was to go to school away from home however, when it became time to look at other schools I kept comparing either the school or town to VSU and Valdosta as a whole. I love this community and want to continue to be a part of the place that helped shape who I am. I feel like VSU is such a unique institution in that it continues to grow yet still maintains the small community feel. I feel like any student can walk on campus and feel like they have just come home.
Areas/Program I advise: Middle and Secondary Education