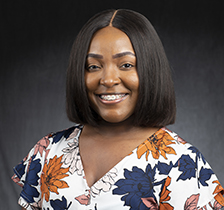 Amiya Miles
Volunteer Services Coordinator
Bachelor of Arts in Political Science




Valdosta State University

MPA




Valdosta State University



Amiya is a proud two times alumna of Valdosta State University. She received her Master of Public Administration in July 2021 and her Bachelor of Arts in Political Science in May 2020 with institutional honors of Magna Cum Laude. Prior to becoming the Volunteer Services Coordinator, Amiya served as a Graduate Assistant for the Office of Career Opportunities. It was from this experience and her involvement with the Office of Career Opportunities during her undergraduate career, that she realized her passion to make a difference in the lives of college students.
As the Volunteer Services Coordinator, Amiya is responsible for coordinating volunteer programs and opportunities for VSU students and networking with various agencies and non-profit organizations in the Valdosta community to enhance volunteer opportunities and participation among students. Additionally, as the Volunteer Services Coordinator, she is responsible for maintaining Blazer Pantry & Closet, a resource for students to obtain free food and professional clothing.
Amiya enjoys volunteering and believes that selfless work such as volunteering molds us into great leaders, world citizens, and team players. In the past as a member of National Council of Negro Women, SGA, the Black Student League, and many more organizations, she has volunteered in the Valdosta community at many non-profit organizations such as LAMP, the Boys and Girls Club, Delta Innovative, and The Tree House to name a few.
Monday-Thursday 8AM-5:30PM
Fridays 8AM- 3PM
To schedule an appointment Click Here

Student Union #2218