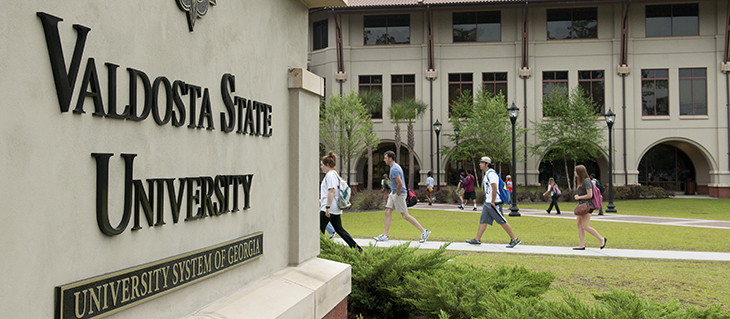 Blazer Summer Research Institute Pilot Program
Program Description:
The Blazer Summer Research Institute (BSRI) is a competitive program for VSU faculty and undergraduate students that is internally funded by Academic Affairs, University Advancement, and private donations. The goal of the BSRI pilot program is to support faculty-lead undergraduate student research projects during the summer term, which aligns with VSU's Strategic Planning Goal 2.
The program's objectives are to:
Apply research mentorship as one way for students to experience experiential learning.
Apply lab research to real-world outcomes or fieldwork.
Take knowledge acquired in the classroom to applications or assessment. 
Take some popular phenomena and understanding the process of how it works (physical, social, learning and/or processes) by logically analyzing components that build up a phenomenon, then determining what influences critical aspects of what is being studied.
For collaborative projects involving multiple students, experiences in how to build or maintain a team to develop a research project or assessment outcome.
Create and disseminate knowledge based on research findings with professional presentations or publications.
Definition of Research from OSPRA:
Research and creative activity are broadly defined as any creative, critical, scholarly, and/or empirical activity that expands, clarifies, reorganizes, or develops knowledge or artistic perception. Research is more specifically defined as a systematic process of investigation or study that will produce facts or theories or will demonstrate or apply such knowledge to problem-solving within the discipline or in society.
Award Information:
Given the funding for the pilot year, it is anticipated that 5 to 6 awards will be made this year. Maximum award amounts are as follows:
One faculty member with one student - $5,000
One faculty member with two or more students - $5,500
*Currently, the award does not provide funding for collaborative projects between faculty.
Application Timelines: 
Applications Open: February 15, 2019
Applications Deadline: March 15, 2019, by 5:00 PM EST
Award Announcements: April 1, 2019
Institute Dates: June 3 to July 26, 2019
Final Presentations by Students: July 26, 2019
Final Reports Due: August 26, 2019, by 5:00 PM EST
Eligibility:
All tenure-track faculty and all tenured faculty at the instructors, assistant professor, associate professor, or professor level are eligible for BSRI funding, including those with administrative assignments. Lecturers/senior lecturers, full-time temporary instructors, visiting faculty, part-time personnel, Department Heads, and Deans are not eligible for BSRI funding.  A faculty member who previously received BSRI funding and is delinquent on any reports is ineligible
Important Documents:
Questions?
Contact Dr. Dereth "Jan" Drake, Co-Coordinator of Undergraduate Research and Associate Professor of Physics, djdrake@valdosta.edu, ext. 4852 
Campus Address
The Graduate School
Converse Hall 3rd Floor
Mailing Address
1500 N. Patterson St.
Valdosta, GA 31698