Blazer Briefcase Employers
Blazer Briefcase
Thanks for choosing Valdosta State University as the place to recruit your future workforce! Our students are talented and eager to gain experience through internships and full-time opportunities.
The Office of Career Opportunities offers a variety of ways for you to get engaged on campus. Attend a career fair, volunteer during our career events, or become a Blazer Employer Partner. Whatever you choose, it is our mission to give you the best possible experience at VSU!
Blazer Briefcase, powered by Purple Briefcase, is our online employer portal which will grant you access to post job and experiential learning listings, register for career events, and even interact with our students and alumni. Please create your free profile by clicking HERE.
---
VSU Hiring Managers: Student Employment Supervisor
Welcome VSU Hiring Managers! Valdosta State University boasts over 1000 student employees in nearly every department across campus. The Student Employment Initiative is facilitated by the Office of Career Opportunities, which includes assistance to student employees and hiring managers.
The Office of Career Opportunities collaborates with Human Resources as well as Financial Aid, serving as an intermediary for hiring managers, student employees and departments.
Please be aware that all on-campus student employment opportunities need to be posted to the Blazer Briefcase site (Please note that this link will take you to an external website). Select the free option to establish your departmental account. For assistance, please contact Darius L. Anthony at dlanthony@valdosta.edu or 229-333-5942.
---
Student Sign-On
Blazer Briefcase Single Sign-On
Alternative login if Single Sign-On is not Operational
Get the APP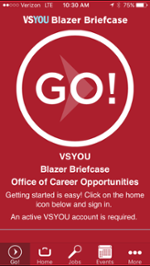 229.259.5515
Campus Address
Student Union, 2nd Floor, Room 2218 Valdosta, Georgia 31698
Mailing Address
1500 N. Patterson St.
Valdosta, GA 31698