Weekend Warrior Retreat
Registration Option 1:  Call 229-245-4305 to reserve your camper's spot, then pay on Day 1 of your camp (pay with cash, credit card, or check)
Does your kid need something fun to do over the weekend?  Do you need someone to watch your child while you go on date night?  Look no further than the Weekend Warrior Retreat presented by Campus Recreation!
Campers will have a wide variety of activities to take part in:
Swimming in Campus Recreation's indoor pool
Crafts
Climbing an indoor 27ft rock wall
Ages: 5-12 yrs old (Junior Leadership Roles are available for youth 13-15 yrs old*)
Date: Saturday, November 23, 2019
Sessions:
Afternoon Session: 1-5PM (snack provided)
Evening Session: 5-9PM (pizza dinner & s'mores provided)
S'More Session: 1-9PM (snack, pizza dinner, & s'mores provided)
Cost: 
Single Session: $35 VSU Students, Faculty, Staff, & Alumni // $40 - Community
S'More Session: $55 VSU Students, Faculty, Staff, & Alumni // $60 - Community
Location: VSU Student Recreation Center, 1300 Sustella Ave, Valdosta, GA 31698
* Junior Leader positions are available by application and are selected by Youth Programs Senior Staff.  For more information, contact Christiana Davis by email at christiandavis@valdosta.edu or by phone at 229.245.4305. Special pricing is offered for those who are selected to be Junior Leaders.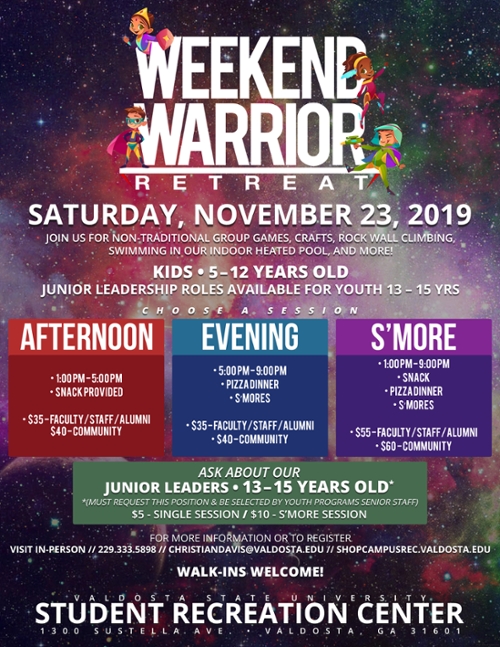 Front Office
229.259.5088
After Hours
CORE Outdoors
IM and Club Sports
Aquatics
Fitness
Campus Address
1300 Sustella Ave.
Valdosta, GA 31698
Mailing Address
1500 N. Patterson St.
Valdosta, GA 31698