Small Group Training
Is it time to make a change?  Are you fed up with your fitness plateau?  Do you want to finally get rid of the extra weight, improve your self-image, have more energy, and see what you're truly made of?
We choose results over excuses, gritty over pretty.  Small Group Training classes are functional, HIIT-style, advanced workouts for groups of up to 8 patrons per class.  The classes are held in the Functional Training Room on the second floor of the Student Recreation Center and are led by our certified Personal Trainers.  
Cost
Drop-In Fee:  $10.00
4 classes/month: $36.00 ($9.00 per class)
8 classes/month: $52.00 ($6.50 per class)
Unlimited classes/month: $73.00
To purchase a package or a drop-in class, please see the front desk of the Student Recreation Center.  All classes are first come, first served.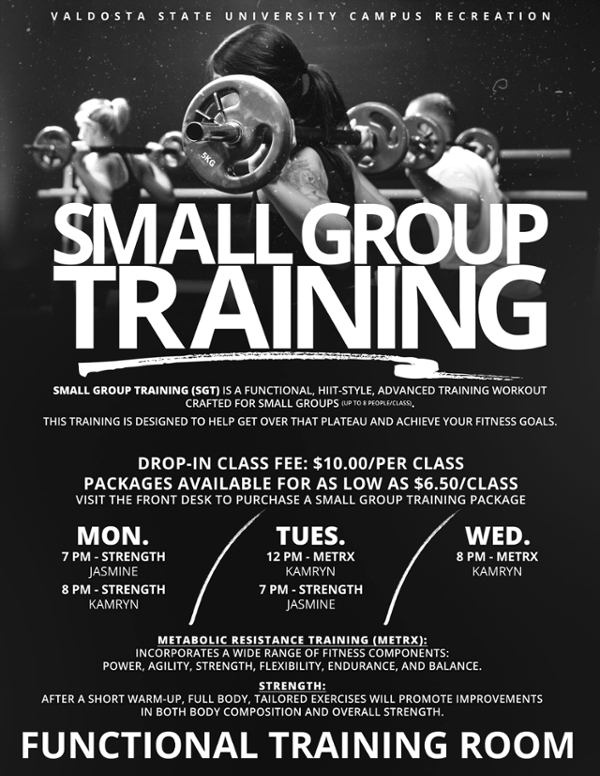 Spring 2020 Schedule
Monday
7:00 PM - Strength with Jasmine
8:00 PM -  Strength with Kamryn
Tuesday
12:00 PM - MetRx with Kamryn
7:00 PM -  Strength with Jasmine
Wednesday
8:00 PM - MetRx with Kamryn
Front Office
229.259.5088
After Hours
CORE Outdoors
IM and Club Sports
Aquatics
Fitness
Campus Address
1300 Sustella Ave.
Valdosta, GA 31698
Mailing Address
1500 N. Patterson St.
Valdosta, GA 31698