SDI Programs
SDI Brave Space Dialogue Episodes: 
Recent discussions on college campuses regarding student holistic wellness, has focused on safe spaces. The history behind the term safe space describes the necessity of different types of environments that students feel physically, emotionally, and psychologically safe and secure. Brave Space Dialogue is the next level of engagement; to draw attention to various issues students encounter within the campus community by constructive conversation.
A Brave Space environment contains five main elements: 
(1) Controversy with civility: where varying opinions are accepted.
(2) Owning intentions and impacts: in which students acknowledge and discuss instances where a dialogue has affected the emotional well-being of another person.
(3) Challenge by choice: where students have an option to step in and out of challenging conversations.
(4) Respect: where students show respect for one another's basic personhood.
(5) No attacks: where students agree not to intentionally inflict harm on one another.  
Spring 2020 Brave Space Dialogue Episodes are as follows:
Episode 9: February 5th Why is Mental Health Taboo in the Black Community? Student Union Meeting Rooms 3 & 4 @6p
Episode 10: March 23rd The Pink Tax- The Cost of Being a Woman vs. How Women's Contributions to Socitey are Valued. Student Union Meeting Rooms 3 & 4 @ 6pm
Episode 11: April 6th Human Sex Trafficking - Odum Library Auditorium @ 6pm
Episode 12: April 20th  Rememberance Culture in Germany and the United States- Odum Library Auditorium @ 6p
Online Diversity Film Series
The Online Film Series is available on our site. Simply choose the film you wish to watch. The films will address topics of diversity, including, but not limited to, race, gender, class, sexual orientation, and abilities with an emphasis on intersectionality.
Faculty members from various programs and departments have partnered with SDI to offer these films as assignments or extra credit. Please check with your professors; if they are not apart of the program, send an email to
diversity@valdosta.edu
 with the professor's name, email address and course information and an invitation to participate will be forwarded. 
Click the link below to be taken to the film catalog: 
Diversity Dinners of Hope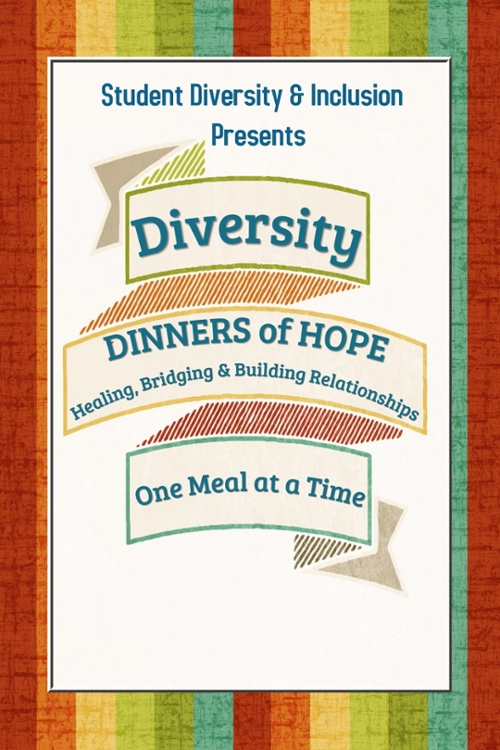 Designed to use shared meals, dialogue, and activities to encourage genuine interaction, by which participants listen and learn from each other. The desired outcome is participants will make a concerted effort to take others' experiences and concerns into consideration, recognizing one another's valid human claim and value, and exercise empathy; leading to transformed relationships through healing and bridging dialogues, and informed campus community change.
BLAZE the Ballot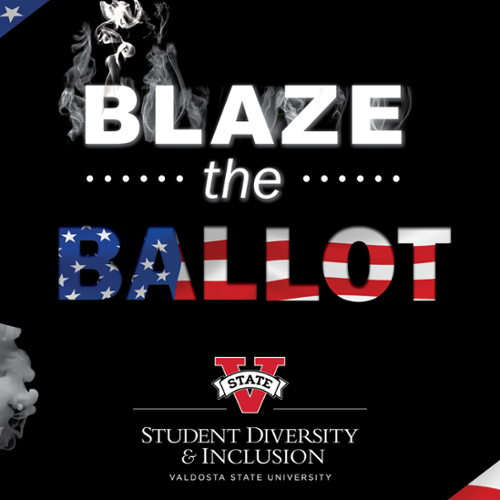 BLAZE the Ballot is an initiative to encourage and nuture campus voter culture by emphasizing the followiing objectives:
B - Build a better campus community of general respect, inclusion and tolerence
L- Learn from the past in order not to repeat mishaps
A- Accountability to affect chagne through active engagement
Z- Zealous about the future
E- Educate our campus on various aspects of voting and why it matters
Our method of facilitation is tabling, Blaze the Ballot discussions, hands on demonstrations, and question and answer sessions. 
Campus Address
3rd Floor Student Union
Mailing Address
1500 N. Patterson St.
Valdosta, GA 31698