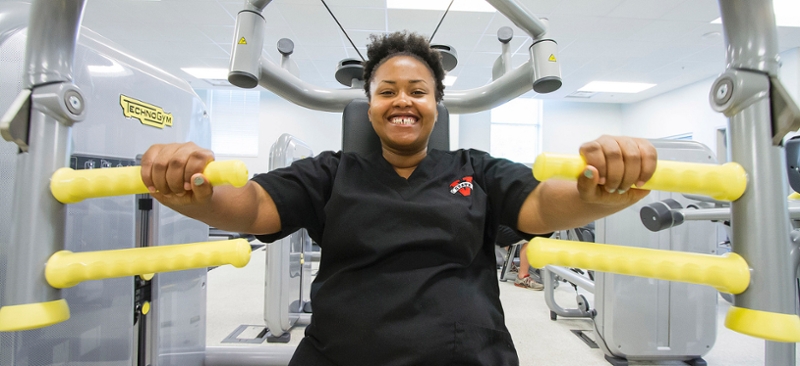 What is Exercise Physiology
Commission on Accreditation of Allied Health Education Programs (CAAHEP). 
Exercise Physiology is a discipline that includes clinical exercise physiology and applied exercise physiology. Applied Exercise Physiologists manage programs to assess, design, and implement individual and group exercise and fitness programs for apparently healthy individuals and individuals with controlled disease. Clinical Exercise Physiologists work under the direction of a physician in the application of physical activity and behavioral interventions in clinical situations where they have been scientifically proven to provide therapeutic or functional benefit.
Description of the Profession
Graduates of Exercise Science programs are trained to assess, design, and implement individual and group exercise and fitness programs for individuals who are apparently healthy and those with controlled disease. They are skilled in evaluating health behaviors and risk factors, conducting fitness assessments, writing appropriate exercise prescriptions, and motivating individuals to modify negative health habits and maintain positive lifestyle behaviors for health promotion. The Exercise Science professional has demonstrated competence as a leader of health and fitness programs in the university, corporate, commercial or community settings in which their clients participate in health promotion and fitness-related activities.
FAQ
WHAT CAREER OPPORTUNITIES EXIST IN THE AREA OF EXERCISE PHYSIOLOGY?
The exercise physiologist is one who utilizes the principles of exercise science in a variety of clinical and non-clinical settings.  A range of opportunities exist including cardiopulmonary rehabilitation, physical and respiratory therapy centers, corporate and hospital fitness, community organizations, competitive sports programs, municipalities, and graduate studies.
WHAT IS THE STARTING SALARY ONE CAN EXPECT WITH A DEGREE IN EXERCISE PHYSIOLOGY?
According to the U.S. Department of Labor Bureau of Labor Statistics (May 2013), the median salary of an Exercise Physiologist is $46,020 per year.  However, this figure may vary considerably based upon factors such as education level, certification, experience, employment setting and the geographic region.  
IN WHAT AREAS CAN I BE CERTIFIED AS A RESULT OF COMPLETING THIS DEGREE?
Graduates of VSU are academically prepared to sit for various certifications including the American College of Sports Medicine (ACSM) Certified Exercise Physiologist (ACSM-EP), examination and the National Strength and Conditioning Association (NSCA) Certified Strength and Conditioning Specialist (CSCS) examination.
WHAT ARE THE DEGREE EXPECTATIONS?
Majors must satisfactorily complete all course requirements. Individuals must log a minimum number of clock hours in various settings.  These "hands on" experiences usually come from assisting program staff in the Health Sciences Fitness Center, Human Performance Laboratory, and various sites in the community.
KNOWLEDGE, SKILLS, AND ABILITIES ASSOCIATED WITH THE EXERCISE PHYSIOLOGY MAJOR INCLUDE:
The relationship between physical fitness and the prevention and/or treatment of disease.

The role of exercise in managing body weight, body composition and fat distribution.

The physiological responses to exercise under various environmental conditions and disease processes.

The musculoskeletal, cardiorespiratory and biomechanical adaptations associated with peak human performance.

The ability to administer safe and scientifically sound health appraisals, exercise tests and prescriptions for the apparently health population and those with disease and/or disabilities.

The ability to plan, manage and evaluate various health and exercise programs within clinical and non-clinical settings.

The knowledge of medications, electrocardiography, and various diagnostic procedures in the detection, treatment and/or prevention of cardiopulmonary disease.

The socioeconomic, medical, culture, and gender constraints associated with health promotion, disease prevention, and rehabilitation programs.

The role of the exercise physiologist in epidemiology, public health, and health education.

The knowledge, skills and abilities to improve the overall health of the region, state, and nation.
229.333.7300
Campus Address
Health Sciences and Business Administration Building
2525 N. Patterson St.
Valdosta, Georgia 31698
Mailing Address
1500 N. Patterson St.
Valdosta, GA 31698

Monday-Thursday




8:00 a.m.-5:30 p.m.




Friday




8:00 a.m.-3:00 p.m.