M.A.T Special Education/Deaf and Hard of Hearing (Online)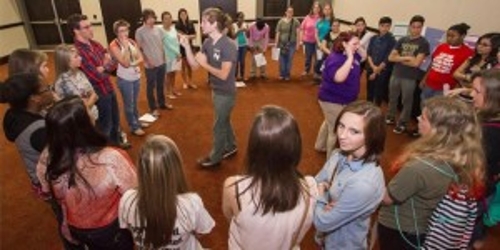 M.A.T. in Special Education: Deaf and Hard of Hearing Education Program Flyer
The Department of Teacher Education offers a Master of Arts for Teachers (M.A.T) degree in Deaf and Hard of Hearing Education.
Majors in special education/deaf education demonstrate content knowledge through passing the state required content assessment in deaf education. Students in this graduate program will demonstrate skills in assessment, instructional strategies, use of technology and monitoring/modifying instruction during observed teaching episodes evaluated by a university supervisor and P-12 mentor teacher. This is an online program.
General Requirements for Admission
Bachelor's Degree from an accredited institution
Passing score or exemption on  GACE I
2.75 minimum grade point average
GRE score of not less than 800 on verbal and quantitative combined (minimum of 400 on verbal) and 3.0 on analytical writing
Satisfactory completion of EDUC 2999
Acceptance into the VSU Graduate School
Must be employed in a classroom with students with disabilities or be able to spend 20 hours/week in a classroom for the duration of the program
Candidates must have basic computer skills and access to a viable computer to take these classes
 Additional Requirements
Successful Completion of  the Masters Program
Passing Scores on GACE basic skills or exemption
Passing Scores on GACE content assessment
Field Experience across grade levels (preK-12th)
Exceptions to any of the above would require the student to submit an appeal
Students wanting certification in Deaf/hard of Hearing must show verification that they have a proficiency in ASL on the Sign Communication Proficiency Interview (SCPI) at an Intermediate Level.
Description of Degree:  36 credit hours
Coursework is completely online;
Supervision and observation of teaching are incorporated into every class through  videotape/videoconferencing
Two classes are offered each semester and summer, taking approximately 2 full years (fall, spring, summer)
Any additional pre-requisites or co-requisites as determined by evaluation of your transcript.
 MAT Degree Initial Certification with major in Deaf and Hard of Hearing Education
 Core Curriculum for MAT (7 hours):

Course

Title

Credit Hours

EDUC 2999

Entry to the Profession - Graded "Satisfactory" or "Unsatisfactory."  A required non-credit course for all deaf education initial certification candidates pursuing a VSU-recommended program of study.  The course must be successfully completed prior to or corequisite with the first semester of professional graduate-level courses listed in the program of study.  Candidates are required to establish an electronic portfolio, have passed or exempted the Regents' exam, have a 2.75 GPA or higher, have a satisfactory criminal background check, and purchase liability insurance. If an "Unsatisfactory" grade is earned, the course must be repeated until a "Satisfactory" grade is received.

0

RSCH 7100

Research Methodology in Education – This course provides a study of methods used to conduct educational and educationally-related research and includes critical analysis of selected research articles and research design.  Emphasized is the ability to use research and research methods to improve practices in educational and educationally-related settings.

3

PSYC 7010

Learning and Assessment – Prerequisite: RSCH 7100. This course assists the in-service educator (teacher, administrator, coach, curriculum supervisor, etc.) to understand learning and assessment as they apply in educational settings.

3

LEAD 7210

Ethics and Laws – Review of the major statues and litigation affecting educational and educational-related areas as well as ethical decision-making practices.  Emphasis is on information and professional ethics and behavior appropriate to educational and educationally-related settings.

1
 Major of Concentration (29 hours):

Course

Title

Credit Hours

DEAF 5310

Methods of Teaching Reading and Writing to Deaf Students – Principles and techniques used in the development of reading and writing skills in deaf and hard of hearing children. Focus on reading theory, applications, diagnostic procedures, and instructional methods for teaching students experiencing hearing loss.

3

DEAF 5370

Teaching Thinking Skills to Deaf & Hard of Hearing Children – Designed to prepare teachers to become familiar with cognitive strategies that promote higher level thought in deaf learners. Emphasis is placed on how to incorporate these strategies into regular classroom instruction.

3

DEAF 5380

Curriculum Development Instruction for Deaf Students – Curriculum planning and special adaptations in teaching school subjects to deaf and hard of hearing students at the elementary, intermediate and secondary levels. Selection, development, modification, evaluation, and use of instructional media.

4

DEAF 6000

Integration and Management of Instruction in the Classroom – Identification and implementation of management and instructional strategies that have demonstrated effectiveness. Through applied projects focused on K-12 student learning, students will demonstrate the ability to evaluate intervention efficacy.

4

DEAF 6010

Integrated Instruction: Individualized Education Program – The theoretical and practical basis of curriculum design for individuals with disabilities throughout the life cycle. Individualized Education Program (IEP) development and planning that incorporate student access to the general educational curriculum are components of this course.

3

DEAF 6020

Audiological Considerations & Auditory/Oral Methods for Teachers of the Deaf – Prerequisite: Admission into the program or permission of instructor. An introduction to the types and causes of hearing loss and methodologies that can be used to enhance speech and listening skills.

4

DEAF 6030

Internship in Teaching – Prerequisite: Admission to the M.A.T. program in Special Education-Deaf and Hard-of –Hearing or permission of instructor. A clinical practice designed for candidates in the online M.A.T. in Special Education-Deaf and Hard-of-Hearing who are seeking initial certification. Candidates will complete a semester of teaching in the role of a deaf educator, supervised by a university supervisor and the school principal or the principal's designee.

3

DEAF 6100

Seminar Deaf Education and Language Learning – An introduction to the study of the growth and development of deaf and hard of hearing children and how being deaf may affect an individual's language, psychological, cognitive, social, and educational development. The focus of this class is toward general understanding of how being deaf or hard of hearing is influential in shaping life experiences of individuals. Various perspectives regarding being deaf are explored. Emphasis is placed on an examination of the various theories of language development and assessment instruments used to evaluate this population and the ramifications of hearing loss on language development.

3

DEAF 6110

Professional Capstone Course – Culminating course. Students will implement a project that demonstrates their ability to apply evidence-based research to impact programs or practices that affect K-12 students.

3
Department of Teacher Education
Education Center
301 Baytree Road
Room 1160
Valdosta, GA 31698
Mailing Address
1500 N. Patterson St.
Valdosta, GA 31698
Fax: 229.219.1225
Connect with Us