Dr. Mizanur Miah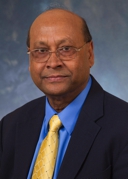 Education - B.A. (Honors), Sociology, Dhaka University (1964); M.A., Sociology, Dhaka University (1965); M.P.H., Health Education, University of California at Berkeley (1969); M.S.W., University of Illinois, Urbana-Champaign (1998); Ph.D., Sociology, Southern Illinois University Carbondale (1985).
Experience - Presently, Dr. Miah is the Head of the Department & Professor of Social Work at Valdosta State University (VSU) in Georgia. He had served as a Commissioner on the Commission on Accreditation of the Council on Social Work Education (CSWE) for two three-year terms (July 2004-June 2007 and July 2008-June 2011). He was Director of the School of Social Work (SSW) at Southern Illinois University Carbondale (SIUC) from April 2002 to July 2013 and also served as Graduate Program Director from 1989-1996, 1999-2000, and 2001-2002. He was Acting Director of the School from 1993-1994. Dr. Miah is a former Chairperson and Associate Professor of Sociology at the University of Chittagong, Bangladesh, and an ex-fellow of the Population Council and an alumnus of the East-West Center Population Institute. Dr. Miah was an Executive Committee member and Co-Chair of the Evaluation Committee of the HIV Prevention Community Planning Group (PCPG) of the Illinois Department of Public Health from 1996-2000. He was also a Board member of the Center for Rural Health and Social Service Development at SIUC from 1989-2010.
Currently, Dr. Miah is a Board member of the International Consortium for Social Development (ICSD) and an Honorary Professor (and life member) of the Moscow State Academy for Technological and Human Services (MSATHS), Moscow, Russian Federation. He was a certified site visitor of the Council on Social Work Education's (CSWE) Commission on Accreditation for the M.S.W. and B.S.W. programs from 1994-2004. Dr. Miah also served as the Elderhostel Program Director for Oaxaca, Mexico from 1993 to 2013. Currently he is serving on the National Association of Deans & Directors of Schools of Social Work's International Task Force, Gerontology Task Force, and the Child Welfare Task Force. He was also the Co-chair of Illinois Association of Deans and Directors (IADD) for a two year term, from 2008 to 2010. Dr. Miah is a Rotarian and a Paul Harris Fellow of the Rotary International, and is also a member of the Rotary Action Group for Microcredit (RAGM). Additionally, Dr. Miah was a Fulbright Scholar to Bangladesh (January to June, 2012) and is the current President of the Center for Development and Governance (CDG) in the USA.  
229.245.4341
Admissions
Campus Address
Health Science and Business Administration 
Social Work Administrative Suite 2002
1500 N. Patterson Street
Valdosta, Georgia 31698
Mailing Address
1500 N. Patterson St.
Valdosta, GA 31698
Monday-Thursday
8:00 a.m.-5:30 p.m.
Friday
8:00 a.m.-3:00 p.m.