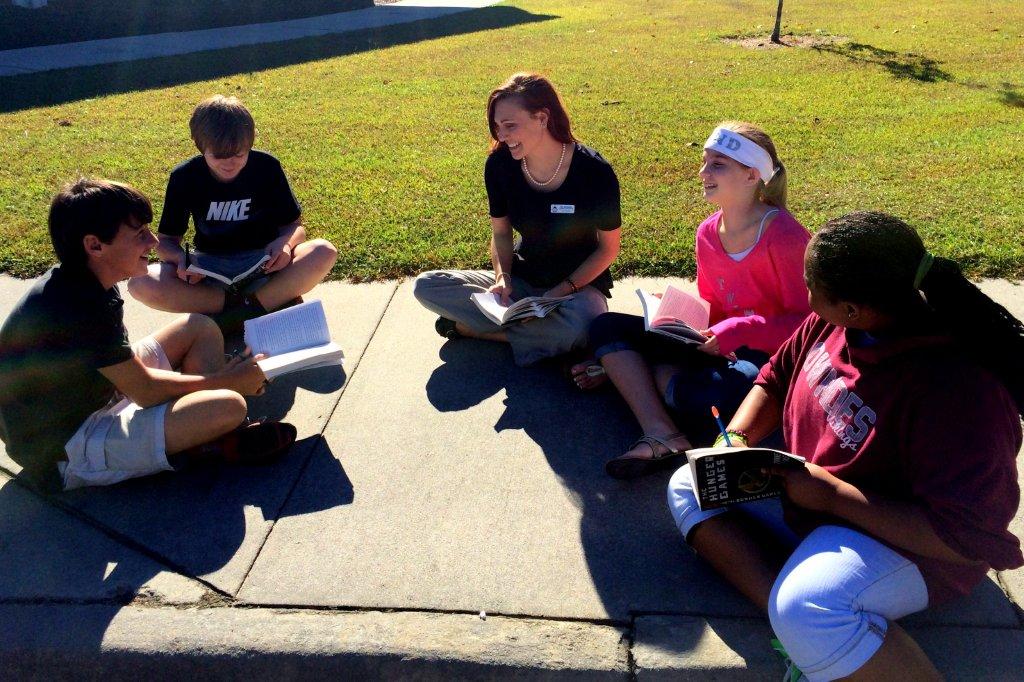 Reading Education Endorsement
Reading Endorsement Program Flyer
The Reading Endorsement is an online program specifically for PreK-12 classroom teachers wishing to add expertise to their current State of Georgia Teacher Certification. The endorsement is designed to help meet the literacy needs of the students, regardless of content area. The program meets the competencies required by the Professional Standards Commission's Georgia Reading Endorsement. Emphases include understanding readers and the reading process, linking assessment and instruction, and exploring specific instructional strategies that can be applied in individual classroom contexts.
---
Reading Endorsement

Course Number

Course Title

Credit Hours

READ 7100

Trends and Issues in the Teaching of Reading

A review of current issues and trends in literacy education. Emphasis in on the principal viewpoints on these issues, including opposing points of view.

3

READ 7130

Comprehension and Study Strategy Instruction

A review of research related to comprehension and study strategies. Research findings will be applied to classroom instruction.

3

READ 7010

Diagnosis and Correction of Reading Difficulties

Study of the nature and causes of reading difficulties, procedures for diagnosis, and methods and materials for corrective techniques in the classroom.

3

 

TOTAL:

9
---
M.Ed. in Reading Education and Reading Endorsement
Frequently Asked Questions
 1.       How long does it take to complete the online Master's in Reading Education program?
This 12-course, 36 semester hour program can be completed in four semesters, depending upon the number of courses a student is able to successfully complete each semester. For students who are unable to enroll full-time, courses are offered on a continuous basis allowing for part-time enrollment.  The majority of the candidates take two courses per semester.
 2.       What are the admission requirements?
Applicants must have clear/renewable teaching certificates (T-4) with an overall bachelor's degree GPA of 2.75 or higher. A student may be admitted for one semester ("Quick Admit") by completing a VSU application and paying the fee. To continue in the program, the student must provide copies of official transcripts from every college attended and other documents noted on the Quick Admission letter. For the Reading Endorsement, students can enroll as non-degree seeking.
 3.       Is the program designed as a cohort that determines a specific order for coursework?
No, students may enter and/or complete the program during any semester.
 4.       Can required courses be taken in any order or do some courses have prerequisites?
The only prerequisite is RSCH 7100 must be taken before PSYC 7010. Every course is not offered each semester, so students must take courses according to the scheduled course offerings.
 5.       Can I transfer credit from another institution into the M.Ed. program?
A maximum of 6 semester hours of graduate coursework may be considered; credits must be less than 7 years of age at the point of completing the program. Requests for transfer credit prior to entering the M.Ed. program must be documented in the form of an official transcript during the admission process.
 6.       Is there a certification test that is required after the completion of the program?
GACE in Reading Education test (parts 117 and 118) is required for graduation and a certificate upgrade.
 7.       What is the estimated cost for tuition? 
Valdosta State tuition is $285 per credit hour or $855 per three credit course. There are additional institutional fees of $205 per semester.  Estimated cost is $11,080 for 4 semesters.  Estimated cost for the Reading Endorsement is $3080.
---
Dismissal Policy: Earning grades below "B" in graduate courses will result in the following consequences: Students admitted Fall 2011 and thereafter will be dismissed from the Graduate School if they accumulate three or more academic deficiency points unless otherwise indicated by individual program policy. A grade of "C" (although it may be credited toward a degree) equals one deficiency point. A grade of "D," "WF" or "F," or "U" (none of which will be credited toward a degree) equals two deficiency points. Candidates admitted PRIOR to Fall 2011 and receiving two grades below "C" ("D", "F", "WF","U") will be dismissed from the program. One grade below a "C" results in a warning.
Contact: Dr. Brenda Dixey, Program Coordinator  229.333.5626 (office); 229.333.5611 (main office) or bpdixey@valdosta.edu
Department of Middle, Secondary, Reading, and Deaf Education Homepage
229.333.5963
Campus Address
Education Center
301 Baytree Road
Room 1045
Valdosta, GA 31698
Mailing Address
1500 N. Patterson St.
Valdosta, GA 31698
Monday-Thursday
8:00 a.m.-5:30 p.m.
Friday
8:00 a.m.-3:00 p.m.