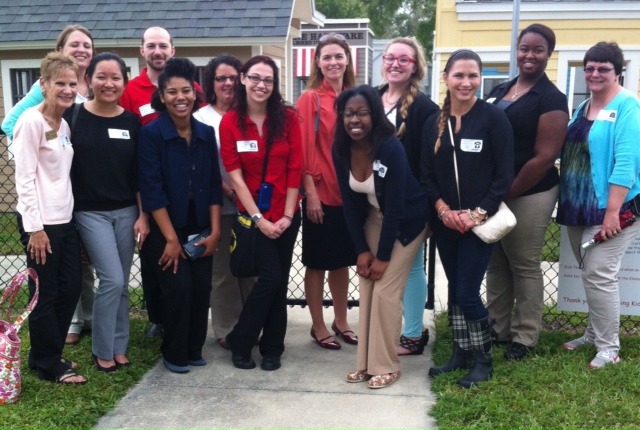 M.Ed. in Deaf and Hard of Hearing Education (5th Year Program)
M.Ed. in Deaf and Hard of Hearing Education Program Flyer
The Department of Middle, Secondary, Reading & Deaf Education offers a 5th year Master of Education (M.Ed.) program for students graduating from the VSU Undergraduate Program of the same name.
Valdosta State University students with B.S.Ed. pre-professional degree in deaf and hard-of-hearing have the option to do a fifth year master's program to earn initial certification. Majors in special education/deaf education demonstrate content knowledge through passing the state required content assessment in deaf education. Students in this graduate program will demonstrate skills in assessment, instructional strategies, use of technology and monitoring/ modifying instruction during observed teaching episodes evaluated by a university supervisor and P-12 mentor teacher.
---
Core Curriculum for M.Ed. (16 Hours):
Course

Title

Credit Hours

DEAF 5010

Student Teaching: Deaf and Hard of Hearing -  

Prerequisite: DEAF 2999; Co-requisite: DEAF 5020.  Graded "Satisfactory" or "Unsatisfactory." A semester-long student teaching experience completed with students who are deaf or hard-of-hearing.

NOTE: A student who receives a grade of Unsatisfactory (U) for student teaching may apply for student teaching only one additional time. The student will be required to complete a prescribed program of remediation before being permitted to student teach a second time. Any student who receives a second grade of "U" for student teaching will be permanently dismissed from all teacher education programs in the College of Education and will not be recommended for teacher certifications by Valdosta State University.

10

DEAF 5020

Student Teaching Seminar: Deaf and Hard of Hearing – Prerequisite: DEAF 2999; Co-requisite: DEAF 5010. A forum for discussion and exchange of ideas relating to the responsibilities of professional ethical practices

2

LEAD 7210

Ethics and Laws – Review of the major statues and litigation affecting educational and educational-related areas as well as ethical decision-making practices.  Emphasis is on information and professional ethics and behavior appropriate to educational and educationally-related settings.

1

RSCH 7100

Research Methodology in Education – This course provides a study of methods used to conduct educational and educationally-related research and includes critical analysis of selected research articles and research design.  Emphasized is the ability to use research and research methods to improve practices in educational and educationally-related settings.

3
Major Area of Concentration (20 Hours):
Course

Title

Credit Hours

DEAF 6020

Audiological Considerations & Auditory/Oral Methods for Teachers of the Deaf – Prerequisite: Admission into the program or permission of instructor. An introduction to the types and causes of hearing loss and methodologies that can be used to enhance speech and listening skills.

4

DEAF 6010

Integrated Instruction: Individualized Education Program – The theoretical and practical basis of curriculum design for individuals with disabilities throughout the life cycle. Individualized Education Program (IEP) development and planning that incorporate student access to the general educational curriculum are components of this course.

3

DEAF 5310

Methods of Teaching Reading and Writing to Deaf Students – Principles and techniques used in the development of reading and writing skills in deaf and hard of hearing children. Focus on reading theory, applications, diagnostic procedures, and instructional methods for teaching students experiencing hearing loss.

3

DEAF 5370

Teaching Thinking Skills to Deaf & Hard of Hearing Children – Designed to prepare teachers to become familiar with cognitive strategies that promote higher level thought in deaf learners. Emphasis is placed on how to incorporate these strategies into regular classroom instruction.

3

DEAF 5380

Curriculum Development Instruction for Deaf Students – Curriculum planning and special adaptations in teaching school subjects to deaf and hard of hearing students at the elementary, intermediate and secondary levels. Selection, development, modification, evaluation, and use of instructional media.

3

DEAF 6000

Integration and Management of Instruction in the Classroom – Identification and implementation of management and instructional strategies that have demonstrated effectiveness. Through applied projects focused on K-12 student learning, students will demonstrate the ability to evaluate intervention efficacy.

4
229.333.5963
Campus Address
Education Center
301 Baytree Road
Room 1045
Valdosta, GA 31698
Mailing Address
1500 N. Patterson St.
Valdosta, GA 31698
Monday-Thursday
8:00 a.m.-5:30 p.m.
Friday
8:00 a.m.-3:00 p.m.