Student Organizations in the Social Work Program
By its nature, the profession of social work involves building relationships, both professional and personal. We believe the ability to network is among the most important skills a social worker will need. Much work is done in classes and practicum to enhance these skills. Also, many students benefit from mutual support. Finally, developing a quality resume is important to any professional. With these concerns in mind, we developed the Graduate Social Work Organization (GSWO) as well as an honor society for graduating students.
MSW students are also represented in campus organizations, and are members of the National Association of Social Workers (NASW). MSW faculty assist students in networking in the MSW program, Human Services Department, College of Education & Human Services, Valdosta State University, and professional social work communities.
The Graduate Social Work Organization (GSWO)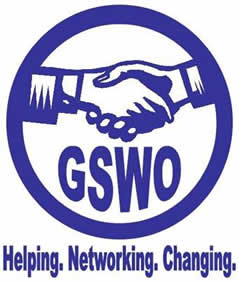 The Graduate Social Work Organization (GSWO) was formed in 1999 as an organization for students in the MSW program at Valdosta State University. Its purpose is to promote camaraderie and exchange between students at all levels in the MSW program. All social work students in the program are members of GSWO. There is no fee for membership. The GSWO consists of an Executive Committee with elected officers-President and Treasurer, Vice President for Web hybrid cohort, Vice President for Face to Face cohort, Secretaries for Web hybrid and face to face cohorts as well as representatives from all web hybrid and face to face class sections as well as part-time and Advanced Standing representatives. The GSWO officers and representatives participate in VSU MSW program governance by attending MSW program faculty meetings, serving on departmental and university committees, surveying the students through online surveys to gather data for formulating and modifying MSW program policies and programs. With consultation from the GSWO advisers and MSW faculty, the GSWO members, officers and representatives decide which service, community and fundraising projects the organization will do. Since 2010 activities have included successful Relay for Life teams, participating in the Valdosta Christmas parade and VSU homecoming, organizing the MSW ceremony at graduation, collecting food, toys and clothing for needy families in South Georgia, organizing Continuing Education presentations and luncheons for students and community social workers, presenting at local, state and national conferences, and producing a monthly newsletter The VSU Social Worker.
Graduating MSW students who have served on the GSWO Executive Committee anytime during their MSW Program of Study are acknowledged at the MSW Graduation Celebration.
Valdosta State University, MSW Honor Society
Since 1999 the Valdosta State University (VSU), MSW program has participated in Social Work Honor Societies. In Spring 2015 the honor society graduates decided to establish the Valdosta State University, MSW Honor Society. The Valdosta State University, MSW Honor Society has no dues for membership and the 2015 honor society members selected red, black and citron for the honor society colors as well as the design of the honor cords. Members of the VSU, MSW Program Honor Society are selected on the basis of having high GPAs in the MSW program and making an application to the faculty for membership. Students may apply for membership the semester of their graduation. A Call for Applications will be emailed to the students early in January or February of each year. Qualified and selected VSU MSW Program Honor Society graduates are sent email invitations to the honor society before April 10 during their graduating semester.
Faculty Advisor: Dr. Diane Holliman
Department of Human Services
Converse Hall, 2nd floor
1500 N Patterson Street
Valdosta, Ga 31698
Mailing Address
1500 N. Patterson St.
Valdosta, GA 31698