Students on the Move
Looking for a Therapist?
Click here for a list of our many excellent graduates practicing in Georgia and states all across the country. Visit their websites, email, or call. They will be glad to answer your questions.
---
We thank you!

---
Congratulations to Sara Reed!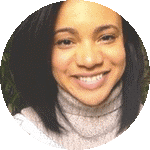 Sara Reed, 2016 VSU MFT Program graduate, is a Marriage and Family Therapist practicing in Farmington, Connecticut, where she works to advance health equity and upward social mobility among boys and men of color through neutral strategies, such as art. As a socially-minded therapist, Sara continuously works to expand culturally sensitive practices within her work and within the literature of the mental health field. She is currently a sub-investigator and study coordinator for the MAPS MDMA Clinical Study of PTSD at the University of Connecticut Health Center. Sara's clinical interests include exploring relational processes and emotional patterns in Black-Americans and identifying sociocultural variables for ethno-racial minority participants in the MDMA-Assisted Psychotherapy for PTSD clinical trials. She will be presenting and speaking about her research in San Francisco next month, November. Sara was recently offered an adjunct faculty position at Southern CT State University, where she will be teaching a diversity course for MFT students. Sara is also in the process of applying to doctoral programs for Fall 2019 admission. She hopes to combine medical anthropology and African American studies and create culturally informed therapeutic interventions outside of a white paradigm. We wish her the very best from the MFT Program at Valdosta State University!
---
VSU MFT Graduate Wins Outstanding Doctoral Student Award 

Jihene Ayadi, a 2012 graduate of the VSU MFT program and currently, a doctoral candidate in counselor education and supervision, won the Outstanding Doctoral Student award at the European Branch of the American Counseling Association conference. The conference was held last week in Athens, Greece. Ayadi, a 
Fulbright
 scholar, is currently in Tunisia working with the Southern Mediterranean University to develop a Counseling and Academic Advising Center. At the conference, Ayadi and her adviser Kristin Higgins presented on the center's implementation. They are also working on an article about the project. The center Ayadi developed allows students to receive both advising and counseling in the same place. This is rare, as these functions typically occur in two separate entities on campus. Ayadi previously worked as a graduate assistant in the University of Arkansas Counseling and Psychological Services office. Her experiences there helped guide her research. Ayadi earned the Outstanding Doctoral Student award for the U of A counseling program in spring 2015. She now serves as a research graduate assistant in the program. Ayadi is on track to graduate in May 2019.
---
Congratulations to Dr. Justin Muller!
The Clinical Mental Health Counseling Program at LaGrange College is excited to welcome Dr. Justin Muller as a new faculty member! Dr. Justin Muller will be joining Dr. Callahan and Dr. Veal in the fall of 2018! Dr. Justin C. Muller has served as a family therapist in Columbia, SC for the past 3 years. Dr. Muller graduated from the University of South Carolina in 2016 with his doctorate degree in counselor education and supervision. He received his master's degree in marriage and family therapy from Valdosta State University in 2013. Dr. Muller's research interests include systemic approaches to providing therapeutic services to African American at-risk youths, facilitating racial dialogues and discussions, and the impact of doctoral study on doctoral student relationships. Dr. Muller has presented at both state and national conferences and has been invited to be a guest lecturer at a variety of universities. When he is not working, Dr. Muller enjoys spending time with his family and friends. Dr. Muller is a major sports fan and follows closely the NBA and each of the University of South Carolina athletic teams. 
---
Lobby Day 
Our students and faculty members head to Atlanta every February for Lobby Day, an annual event that educates and empowers MFT students by orienting them to the legislative process. Students visit Georgia's State Capital where they meet and discuss legislation relevant to the MFT field with the Georgia State Representative and lobby Georgia lawmakers regarding GAMFT's legislative agenda. To find out more about our Georgia representatives, check out www.votesmart.org.  
Pictured are MFT students at the State Capital during the 2016, 2017, 2019, and 2020 Lobby Day. In the top photo (2016), Representative Amy Carter is in the first row, second from the left.
| | |
| --- | --- |
|                                   2016 Lobby Day |                              2017 Lobby Day |
|                                    2019 Lobby Day  |                             2020 Lobby Day |
---
COEHS Celebration of Students
MFT Student Award
This award is given to a MFT student who has demonstrated commitment to and excellence in learning, professional development, and clinical practice. 
| | | |
| --- | --- | --- |
| 2018 Award Winner: Ashley Lanier | 2019 Award Winner: Kayla Waters | 2020 Award Winner: Brody Lathem |
2021 Award Winner: Tommy Hampton
---
 Graduate School Research Symposium
| | |
| --- | --- |
| | Emma Becker, Priscilla Thomas and Anna Elyse Yarbrough presented at the 2018 Graduate School Research Symposium, titled "Polyamorous Relationships and the Perceived Self-Worth of Female Partners." Their research found that with thorough communication, partnership and commitment, it supported the self-worth and well-being of female partners |
| Kristen Carney, Courtney Chaney, and Sam Holly, presented their research at the 2017 Graduate School Research Symposium. Their poster, titled, "Who Pays for What: A Qualitative Study of Recently Married Couples' Experiences with Finances." Their research found that conversations about finances are much more common today, and that finances are often discussed as couples discuss their own values and family expectations. | |
| | Beverley Joseph and Eveny Griffin presented their research, "How Are Perceptions of Intimate Relationships Created and Reified by Social Media," at the Graduate School Research Symposium this year.  Their research aimed to explore the influence social media has on relationships.  Not pictured here are Abriel Blake Farrow and Redonno Carmon, who were also part of this research project. |
---
 Annual AFTA Conference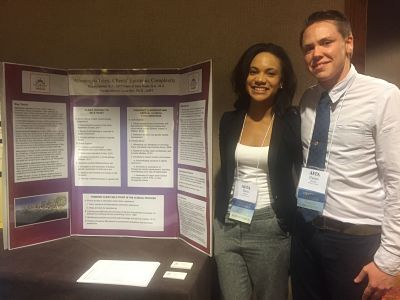 Two MFT students, Dyson Davies and Sara Reed, were honored to co-present a poster at the 2016 American Family Therapy Academy (AFTA) Conference in Denver, CO. The poster, titled "Attuning to the Epistemic Complexity of Trans- Clients," offers critical considerations for therapists working with trans- or gender nonconforming (TGNC) clients. Dyson and Sara want to thank Dr. Lana Kim for her exceptional mentorship on this project.
---
Annual AAMFT Conference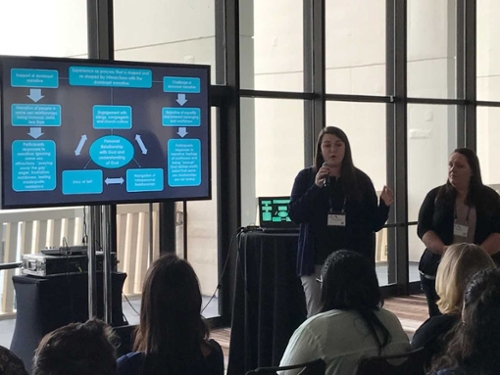 Katelyn Coburn and Ellory Bishop presented at the 2017 American Association for Marriage and Family Therapy (AAMFT). Their presentation, titled "Christian Women's Revelations from the Church Closet," discussed how to better understand the experiences of Christian women in same-sex relationships who are not out in their church and what, we, as therapists need to know to assist our clients.
---
National Council on Family Relations
Two students, Cindy Urrutia and Alyssa Calderon are joined by Clinic Director, Tabitha McCoy, MS, LMFT. The poster, titled "Bridging the Gap: Transformative Service Learning Experiences in MFT Training," explored students who actively participated in community service engagements while enrolled in the Marriage and Family Therapy program at Valdosta State University.

Faculty and students collaborate on research examining family therapy journals. The purpose of the research was to provide an overview of the research being published from 2000-2015, assess who is publishing, and investigate the current state of clinical effectiveness research in marriage and family therapy. Two students, Paul Peterson, MS and Annisa Pireshteh, MS, LMFT, assisted in conducting this research with Jennifer Lambert-Shute, Ph.D., and Hoa Nguyen, Ph.D. Paul is a recent graduate from Valdosta State University's Marriage and Family Therapy Program and he is currently working in private practice in Arkansas. Annisa was a graduate in 2012 and currently works in private practice in Atlanta while pursuing her doctorate in MFT at the University of Louisiana Monroe.

"Hearing the Story Beyond the Words: An Immersive Training Experience in Therapeutic Listening"

Lana Kim, Jennifer Lambert-Shute, Martha Laughlin, Tabitha McCoy, Katelyn Coburn, Ellory Bishop, and Kimberly Mulkey

This presentation discussed the experiences of trainees and supervisors in one MFT program, and their involvement in a mobile interprofessional healthcare clinic that provides medical and behavioral health services for migrant workers in South Georgia. This annual week long, outreach project provided family therapy trainees the opportunity to facilitate single session therapeutic encoutners with persons whom they do not share a common spoken language. We discussed what we have learned about how to connect and attend to another's experience and hear the story beyond the words.

 
---
GAMFT Conference 2019: Poster Session
Passing the Torch: Exploring Differing Approaches in the Navigation of Relationships between Adult Children and Aging Parents

-Khushbu Patel & Howard Taylor Jackson

 These students researched how adult children may worry about where their parents will live or who they will live with. Furthermore, they may or may not have help from other family members in taking care of their parents. In the literature thus far, there are a few things missing which include cultural differences, intergenerational gaps, and discovering more strategies for coping with the transitional period. Most of the literature focuses on the American culture and Caucasian individuals, which cannot be applied to other cultures because each culture has their own way of interacting with others. Furthermore, the current literature focuses on researching two generations (adult children and aging parents) but there is a gap in research on multiple generations.

You Are What You (Decide) to Eat: A Literature Review on Food Choices

-Miriam Burton & Elizabeth C. Griffis (not pictured)

These students presented on how it is our natural human desire to conform and perform with one another is a factor that permeates our lives, right down to the food we eat.  While factors such as personal preference or availability may play a role in the selection of daily meals, we found the societal messages surrounding food to be influential in the decision-making process and that those decisions carry emotional weight that can influence the individual.  This understanding is clinically relevant as it provides context for the choices people make surrounding food and highlights the emotional impact of those decisions.

Hooking Up: The Experience of Casual Sex from Post-Collegiate Women

-Alyssa Hedrick, Megan Willard, Kayla Waters (not pictured)

These students discovered hooking up, or casual sex without commitment, has become quite popular among collegiate men and women. Although there is a plethora of data addressing women and men currently in college, the data of post-collegiate women is quite lacking. This semistructured interview process was focused on gathering the narratives of post-collegiate women, between the ages of twenty-four and twenty-seven, who self-identified as actively participating in the hook-up culture through their collegiate years. The themes discovered among the women's stories from participating in hook-up culture were that the women were single by choice, realizing with growing older that they have gained experience about what they desire in a relationship, there are multiple subconscious pressures from friends in their peer group, and focusing on their own accomplishments instead of a relationship is a common goal. 

Masculinity and Men: A Systemic Overview

-Michael Serrano-Jones & Kalyn Bowser

These students discovered that current research is concerned with how masculinity is viewed and displayed. The idea conveyed is that masculinity is fluid and viewed on a spectrum, rather than a divisive masculine or feminine dichotomy. Despite the inclusive leaps current research is trending towards, gaps within the research include the lack of in-depth information regarding toxicity and toxic masculinity. More research is needed regarding the process of how men view their own ideas of masculinity considering the new messages they receive from their cultural and societal influences surrounding the evolving definitions of masculinity.
MFT Program
FamilyWorks
FamilyWorks Fax
229.219.1280
Campus Address
903 N. Patterson St.
Valdosta, GA 31698
Mailing Address
1500 N. Patterson St.
Valdosta, GA 31698