Dean's Welcome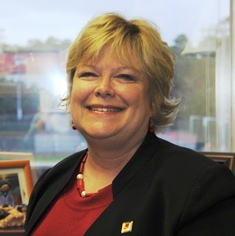 Welcome to the Dewar College of Education and Human Services,
I am delighted that you have chosen a major in our college. You have joined an exciting group of students, faculty and staff. Our investment in changing lives through education and service runs deep. Valdosta State was originally founded in 1913 as South Georgia State Normal College, a pioneer in teacher education. Over the years we added a variety of human service programs to our College. Today, our passion for training educators and human services professionals burns every bit as bright as it did 107 years ago.
You will find that you are part of a very special place where our faculty are passionate about the work we do to help you realize your dreams. We are committed to helping you attain your goals through a culture of mutual respect, something we achieve through our devotion to civility, integrity, and citizenship, the three key elements of the Blazer Creed.
Your decision to pursue a career in education or a human services profession is a clear indication of your ongoing dedication to lift up and improve the lives of those you touch. We in the College of Education and Human Services pledge to match your dedication. Together we will change the world, and we can't wait to get started!
Our goal is to provide you with an inspired education, a safe learning environment, a nurturing community, and a wealth of experience that will prepare you to be an innovative, reflective, and caring professional guided by evidence-based practices. It is our vision that you will become a lifelong learner who will meet the needs of a changing global society.
Karla M. Hull, Interim Dean
Dewar College of Education & Human Services
khull@valdosta.edu
229.333.7167
Campus Address
Education Center
301 Baytree Road
Valdosta, GA 31698


Mailing Address
1500 N. Patterson St.
Valdosta, GA 31698