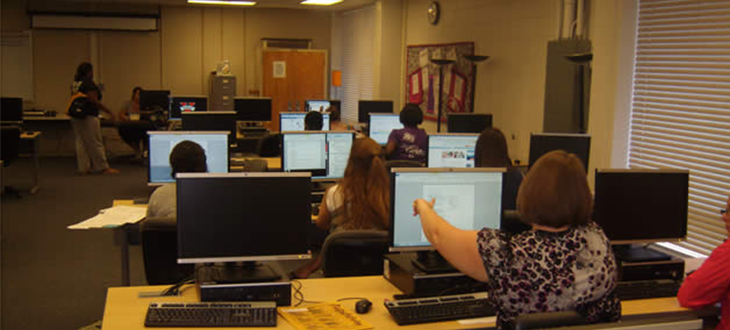 COEHS Student Technology Resources
Valdosta State University (VSU) offers a variety of technology resources for students to be successful in their program while enrolled at VSU. The Dewar College of Education and Human Services offers technology to students enrolled in a program within the college, and the New Media Center offers technology resources for all VSU students.
Dewar College of Education and Human Services Technology Resources
The Dewar College of Education & Human Services offers iPad and Swivl rentals to students completing a program in the college. These devices are available for checkout for the entire semester that the student is completing their clinical placement or practicum. To check out one of these devices, please contact the Office of Clinical Experiences and Certification at (229) 253-2998 or stop by their office located on the second floor of the Education Building. Their office hours are Monday through Thursday 8:00am-5:30pm and Fridays from 8:00am-3:00pm.
New Media Center Technology Resources
Located in the Odum Library, the New Media Center is an innovation hub with many different technologies and printing services available for student and faculty use. The New Media Center has space available to reserve including small and large classrooms for presentation needs as well as large printers to print posters of various sizes and two Lulz Bot Taz 3D printers. Use of the 3D printer costs 20 cents per gram of the print weight as measured after the print is completed. Students are encouraged to schedule a time to use the printers, however, walk-ins are welcomed. The center also has a 3D scanner for that can be rented for use. Equipment available for checkout at the New Media Center include the following:
General Academic Needs
Blue Snowball iCE USB Microphone with HD Audio
edTPA Kit*
External RW Disk Drive
Headphones
Laptop Computers
Netbooks
Overhead Projectors
Webcams
*The edTPA kit will include a wireless lapel, tripod, camcorder, and SD card in order to complete edTPA requirements. edTPA kits are available for 3 week rental periods.
Presentation Needs 
Easel
Infocus LCD Projector
Microphone 
PA Systems
Power Cable
PowerPoint Presenter
Powerstrip 
Due Dates and Fines
Please contact the Office of Clinical Experiences and Certification for due dates and fines on Swivl and iPad rentals. Each item available for checkout from the New Media Center has a two-day loan period; however, borrowers may request a six-day loan period on netbooks, overhead projectors, and easels. Each operational weekday that the equipment is late, a $10 fine will accrue at 8:00am each day. Any additional items checked out will accrue a $5 fine for each weekday overdue. 
229.333.7167
Campus Address
Education Center
301 Baytree Road
Valdosta, GA 31698


Mailing Address
1500 N. Patterson St.
Valdosta, GA 31698