Dr. Joshua S. Reece
Contact Information
E-Mail: jreece@valdosta.edu
Phone: 229-219-3293
Office: Bailey Science Center, Room 1213
Education
Postdoctoral Fellow University of Central Florida, 2011-2013
Postdoctoral Fellow University of California at Santa Cruz, 2010-2011
Ph.D. Biology, Washington University in Saint Louis, 2010
M.S. Biology, University of Central Florida, 2005
B.S. Biology, University of Central Florida, 2002
Undergraduate Research Opportunities
Courses Taught at VSU
BIOL 1107 - Introduction to Biology
BIOL 4010 - Macroevolution
BIOL 4020 - Coastal Biodiversity
BIOL 4950 - Genomic Sequencing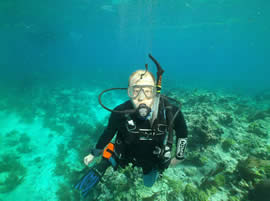 Research Interests
I have three primary research foci. The first builds on my MS and dissertation work and examines population genetics and phylogenetics of marine vertebrates, including sea turtles and tropical moray eels. The second is a continuation of my first postdoctoral fellowship and uses phylogenetic information to understand the evolution of morphological traits, including functional traits. The third focus is ongoing from my second postdoctoral fellowship and includes studies of the ecological impacts of climate change and sea-level rise in the southeastern United States, including approaches such as vulnerability assessments and environmental niche modeling.
Recent Popular Press
Visit Dr. Reece's Blog Page
Publications
Reece, J., Noss, R.F., Oetting, J., Hoctor, T., Volk, M. A vulnerability assessment of 300 species in Florida: threats from sea level rise, land-use, and climate change. In revision at PLoS One.
Reece, J., Auman, M., Bilskie, M., Ehrhart, L.M., Hagen, S., Hays, A., Long, C., Noss, R., Passeri, D., Sanchez, C., Von-Holle, B., Weishampel, J., Wolf, S. Climate change, sea level rise, and land use influence the distribution of loggerhead (Caretta caretta) nests at Melbourne Beach, Florida. In revision at Marine Ecology Progress Series.
Collar, D., Reece, J., Mehta, R., Alfaro, M., Wainwright, P. Multiple ways to crack a shell: Variable morphological responses to durophagy. In revision at American Naturalist.
Boenscotter, A.M., Reece, J.S., Noss, R.F., Brandt, L.A., Mazzotti, F.J., Romañach, S., Watling, J.I. (in press) Threatened and endangered subspecies with vulnerable ecological traits also have high susceptibility to sea level rise and habitat fragmentation. PLoS ONE.
Reece, J., Noss, R.F. 2013. (in press) A Flexible Tool for Prioritizing Species by Conservation Value and Vulnerability to Multiple Threats. Natural Areas Journal.
Korosy, M.G., Reece, J., Noss, R. (in press) Winter habitat associations of four grassland sparrows in south Florida's dry prairie. Wilson Journal of Ornithology.
Krakos, K.N., Reece, J., Raven, P. (accepted, in revision) Molecular phylogenetics and reproductive biology of Oenothera section Kneiffia. Systematic Botany.
Reece, J., Mehta, R. (2013) The mechanisms underlying the evolution of elongation and large body size in moray eels (Muraenidae). Biological Journal of the Linnean Society, 109, 861-875.
Reece, J. (2011) The Incredible Larvae of Moray Eels. Quest Magazine, 12, 25-27. **Featured on Cover
Reece, J., Bowen, B.W., Larson, A. (2011). Phylogeography of four moray eel species: long larval duration ensures ocean-wide genetic homogeneity despite variation in adult niche breadth. Marine Ecology Progress Series 437, 269-277.
Tucker, S.L., Reece, J., Ream, T.S., Pikaard, C.S. (2010) Evolutionary history of plant multisubunit RNA Polymerases IV and V: Subunit origins via genome-wide and segmental gene duplications, retrotransposition, and lineage-specific subfunctionalization. Cold Spring Harbor Symposia on Quantitative Biology 75, 285-297.
Reece, J. Smith, D.G., Holm, E. (2010) The moray eels of the Anarchias cantonensis group (Anguilliformes: Muraenidae), with description of two new species. Copeia 3, 421-430.
Reece, J. Bowen, B.W., Larson, A.F. (2010) Molecular phylogenetics of moray eels (Muraenidae) demonstrates multiple origins of a shell-crushing jaw (Gymnomuraena, Echidna) and multiple colonizations of the Atlantic Ocean. Molecular Phylogenetics and Evolution 57, 829-835.
Reece, J., Bowen, B.W., Joshi, K., Goz, V., Larson, A. (2010) Phylogeography of two moray eels indicates high dispersal throughout the Indo-Pacific. Journal of Heredity 101, 391-402. **Featured on Cover
Brock, K.A., Reece, J., and L.M. Ehrhart. (2009) Effects of Artificial Beach Nourishment on Marine Turtles: Differences between Loggerhead and Green Turtles. Restoration Ecology, 17, 297-307.
Reece, J., Ehrhart, L.M., and C.L. Parkinson (2006). Mixed Stock Analysis of Juvenile Loggerhead Turtles in the Indian River Lagoon and Implications for Marine Turtle Conservation Planning. Conservation Genetics, 7, 345-352.
Reece, J., Castoe, T.C., and C.L. Parkinson (2005). Historical Perspectives on Population Genetics and Conservation of Three Marine Turtle Species. Conservation Genetics, 6, 235-251.
229.245.6585
Campus Address
Room 2035, 2nd Floor
Bailey Science Building
Mailing Address
1500 N. Patterson St.
Valdosta, GA 31698

Monday - Thursday
8:00AM until 5:30PM
Friday
8:00AM until 3:00PM
Saturday - Sunday
Office Closed