Undergraduate Information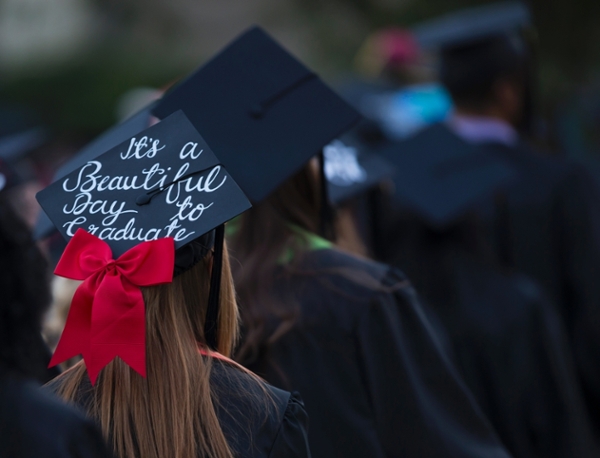 Saturday, May 9, 2020
All Associates and Bachelor degree candidates will walk at this time. 
The 2020 Spring Commencement will take place on the VSU Front Lawn beginning at 7:00 pm. Every graduate's name will be announced at this time. You will walk across the stage to receive your diploma cover, shake the President's hand and have your picture made.
Graduate Check-In and Line Up
College of Humanities & Social Sciences: Meet in Nevins Hall - Room 1061 
College of Science & Mathematics: Meet in Nevins Hall - Room 1065
College of The Arts: Meet in Nevins Hall 1st Floor - North Hallway
College of Education & Human Services: Meet in Bailey Science Center - Room 1011 (Auditorium)
College of Business: Meet in Bailey Science Center - Room 1023 
College of Nursing and Health Sciences: Meet in Bailey Science Center- Room 1024
Faculty Marshals will be there to direct you and ensure an efficient lineup process.
Do not be late to line up!!  Be there at 5:30 pm with all of your necessary graduation attire (cap, gown, and tassel). Once the processional has left, no graduates will be permitted to join the lines. It is very important you are on time: escort will begin at 6:40 pm.
Leave all personal belongings at home; there will be no place to store these items during the ceremony.
Please pay attention to the weather for the day of Commencement: You will be walking from Nevins and Bailey, plan accordingly.
Please take into consideration when choosing your attire that you will be walking on sidewalks, bricks, hallways, and grass.
Processional (walking into the ceremony)
Graduates will march in two rows down the center aisle.
Keep in line and follow the directions of the Faculty Marshals.
File into the black chairs reserved for Graduates under the direction of the Faculty Marshals.
All students will remain standing until the Commencement Ceremony is called to order.
Receiving Your Diploma Cover
After special recognition of students and the President's speech, students will be asked to approach the stage; follow directions by the Faculty Marshals.
Hand your name card to the reader, and your name will be called. Take time to POSE FOR PICTURES when shaking the President's hand.
Follow the Faculty Marshals directions to your seat.
Recessional (leaving the ceremony)
After the ceremony, you will not recess out. All the graduates will stay in their seats for the firework show. Once the firework show is over, your family and friends can join you for pictures! 
Severe Weather Plan
Should severe weather affect our ceremony, an announcement will be sent in advance to graduates and family via text, email, and social media. The Ceremony will be held in The Complex with a 7:00pm start time. 
Commencement
UC Entrance #2
1215 N. Patterson St.
Mailing Address
1500 N. Patterson St.
Valdosta, GA 31698
Fax: 229.259.2515