Valdosta State University Mace
The mace has evolved through the years from a "hand combat" weapon of the middle ages, employed by archers and other unmounted warriors, to a club-shaped staff used as a symbol of authority by legislative, religious, academic, and other assemblies to give a ceremonial character to official functions.
The Valdosta State University Alumni Association commissioned Hollis Barnett, VSU professor of Art, to design and sculpt the mace.  It was first used at the June 12, 1994 commencement ceremony presided over by President Hugh C. Bailey.  It has subsequently served President Zaccari, President Schloss, Interim President Levy, President McKinney, Interim President Staton, Interim President Brown and now President Carvajal.
The design of the Valdosta State University mace is based on the dome of West Hall. It was sculpted by hand in wax and cast in bronze using the lost wax casting process. Black onyx and red carnelian stones, representing the University's colors, are set into the bronze. The shaft is carved in a dark mahogany. The mahogany base, is engraved with the University's logo.
The mace is carried by the VSU faculty marshal for ceremonial occasions.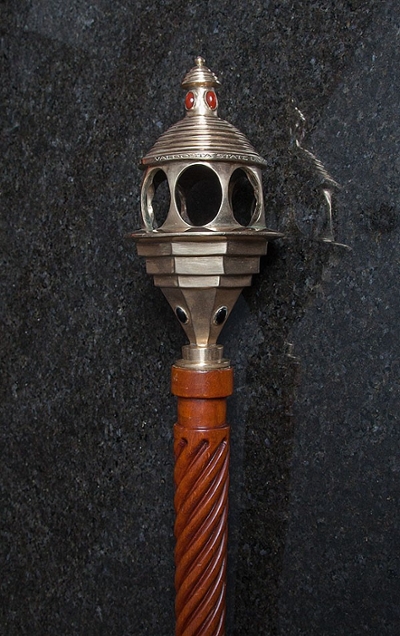 Commencement
UC Entrance #2
1215 N. Patterson St.
Mailing Address
1500 N. Patterson St.
Valdosta, GA 31698
Fax: 229.259.2515