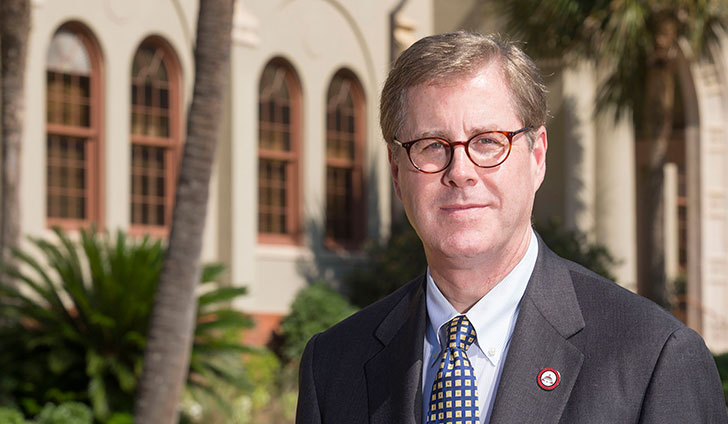 About Interim President Cecil P. Staton
On July 1, 2015, Dr. Cecil P. Staton became Interim President of Valdosta State University. Appointed by Chancellor Hank M. Huckaby, Staton comes to VSU having served as Vice-Chancellor for Extended Education with the University System of Georgia. In that role, Dr. Staton served as the Chief International Officer for the system and was responsible for the system-wide priorities of international education, continuing and professional education, entrepreneurial education, and military affairs. He also worked with Georgia's economic development initiatives in order to match the resources of USG institutions with Georgia's evolving workforce needs. Most recently, Staton led system efforts to create the Georgia Film Academy, supporting the state's burgeoning film industry.
Prior to this Dr. Staton served as a Georgia State Senator for 10 years including two terms as Majority Whip. During his tenure he served on most major committees including: Assignments, Rules, Appropriations, and Finance. From 2006-2010 he served as chair of the Senate Science and Technology Committee. He also chaired for two terms the sub-committee of the Senate Appropriations Committee responsible for Georgia's 2 billion dollar annual investment in higher education. He also served as vice chair of the Senate Appropriations sub-committee on Community Health, leading efforts to increase the healthcare workforce of Georgia. Staton sponsored legislation creating the Georgia Trauma Care Network Commission and championed more than 100 million in investment in the state's trauma care system.
Staton, an entrepreneur, was the founding CEO and President of several successful media companies that focused upon broadcasting and publishing. Among these are Smyth & Helwys Publishing, Inc., founded in 1990, Stroud & Hall Publishers, Inc. (2003), and Georgia Eagle Media, Inc., founded as Staton Broadcasting, Inc. in 2003, a media holding company with interests in television, radio, newspaper and digital media.
Dr. Staton holds the Doctor of Philosophy degree (1988) from the University of Oxford in England, the Th.M. (1985) and M.Div. with Languages (1982) degrees from Southeastern Baptist Theological Seminary, and the B.A. (1980) from Furman University. He was awarded the honorary Doctor of Humanities degree by Mercer University in 2014 for his service to higher education and medical education. He served as a college and university faculty member and administrator for 15 years before his business and political career. He was Associate Professor and Associate Provost at Mercer University (1991-2003), where as University Publisher and head of faculty research initiatives he led efforts successfully securing a 4.5 million dollar endowment for Mercer University Press. He served as a presidential fellow in 2002, travelling to and conducting research at 15 small comprehensive universities around the country leading to the publication of A Sturdy American Hybrid (Mercer University Press, 2003).
Staton has received numerous awards including the inaugural Richard Furman Award from Furman University in 2000, and most recently the 2014 Miller-Deal Award, the highest honor bestowed by the Georgia Independent College Association. Other recognitions include:
Star of Life Legislative Award, Georgia Association of Emergency Medical Service, 2007
Mercer University School of Medicine Commencement Speaker, 2008
Technology Association of Georgia, Legislator of the Year, 2010
Georgia Hospital Association, Legislator of the Year, 2010
Georgia Rural Healthcare Association, Legislator of the Year, 2010
Georgia Bio, The life Sciences Partnership, Legislator of the Year, 2012
The 1849 Friend of Medicine Award, Georgia Medical Association, 2013
Emory University Center for Injury Control, Award for Outstanding Service, 2013
Dr. Staton has published numerous books, book chapters, and articles. He is married to Catherine Davidson Staton and together they are the parents of two sons. Dr. Staton is a recognized authority on higher education and healthcare issues and the challenges facing public and private higher education today. In making the appointment of Dr. Staton, USG Chancellor Hank Huckaby commented, "Cecil has an extensive academic background in higher education combined with solid experience in leading a business operation that makes him uniquely qualified to provide leadership at Valdosta State during this important period. We are fortunate to have someone of Cecil's caliber in the University System who can step in and ensure Valdosta State continues to move forward."