VSU Service Desk allows the faculty, staff, and students of the university to create and track requests for VSU-related technology assistance.
Click the Button below or visit https://solutions.valdosta.edu - Login using your MyVSU email & password.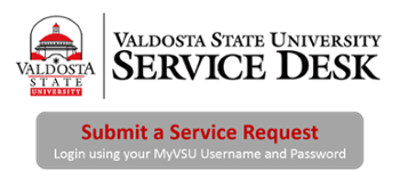 Features

Create incidents for VSU computing equipment or accounts.
Check the status of and update incidents.
Check for announcements regarding any VSU IT services.
Guest can use the following account to view these notifications:

Username: vsuguest
Password: guest

 Guides






Forgot your MyVSU (Active Directory) Username/Password? Use the Password Reset Tool.
Don't want to submit a service ticket? You can still Contact VSU Solutions Center-Helpdesk
Division of Information Technology
1500 N. Patterson St. Valdosta, Georgia 31698
Mailing Address
1500 N. Patterson St.
Valdosta, GA 31698
Solutions Center
Fax
Fax: 229.245.4349

VSU Solutions Center


Eastern Standard Times

Mon-Thurs: 8 am - 7 pm

Friday: 8 am - 5 pm


Saturday: 9 am - 2 pm

Sunday: 9 am - 3 pm