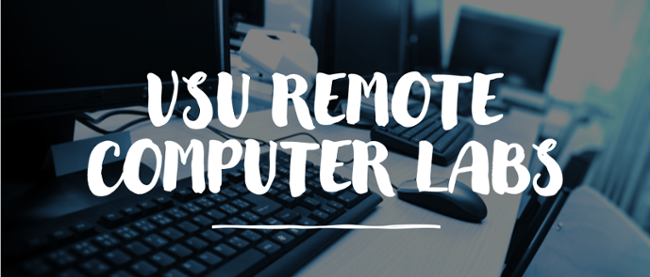 Virtual Computer Labs
Being away from campus doesn't mean you have to be without your classroom technology. . .
Enrolled students have virtual access to various campus-licensed software while off-campus. Just remember to RESTART your virtual computer when finished with session.
What Software are Available on the Virtual Computers?

You can access the following campus-licensed software on VSU virtual Microsoft Windows computers:

Web Browsers: Chrome, Firefox, Internet Explorer
Microsoft Office: Excel,Word, Power Point
Eclipse
jGrasp
IBM SPSS Statistics
Notepad++

Access to VSU Mac computers are not available.

When are Virtual Computers Available?

VSU virtual computers are available on a first-come; first-served basis, Monday-Sunday, 24 hours a day:

Each user is allotted 3 hours per log-in session.
The virtual computer automatically restarts after 30 minutes of inactivity.
You must restart the virtual computer when finished.
Computers automatically restart at 3am EST each day.

How do you connect to a virtual computer?

You need the following technology:


An internet-connected device that has a minimum 10 Mbps connection speed, a mouse and keyboard
Microsoft OneDrive or similar cloud-storage solution (ex. Dropbox, Google Drive) to save your work

Two-

Factor Authentication

(2FA)

to securely log in

using your VSU credentials

Connect your device to a virtual VSU Windows computer:

1. Install the appropriate connection application on your computer.

2. Use a web browser to log on to the virtual portal. You will be prompted for two-factor authentication.

3. Select the VSU Virtual Lab and then log on.

4. When finished, restart the virtual computer so it will be ready for the next user.

Need more help?

If you have followed the guide instructions but still need help connecting, Contact VSU Solutions Center during normal business hours.
229.245.4349
Campus Address
1500 N. Patterson St. Valdosta, Georgia 31698
Mailing Address
1500 N. Patterson St.
Valdosta, GA 31698

VSU Solutions Center


Eastern Standard Times

Mon-Thurs: 8 am - 7 pm

Friday: 8 am - 5 pm


Saturday: 9 am - 2 pm

Sunday: 9 am - 3 pm