Mass Media Equipment Reservation
The Cage is not part of Odum Library. Please direct all questions to the Mass Media Department, 229-333-5820.
Request equipment via reservation and checkout for Communication Arts Majors and faculty only:
Cage Hours:
Mon-Fri: 10:00 AM - 12:00 PM (noon) and 2:00 PM - 5:00 PM
Reservation Requests:
Must be placed 24 hours in advance.
Start and end times should be within Cage open hours to successfully submit a booking request, otherwise the booking reservation times will be adjusted accordingly or refused by the system.
Equipment pick-up:
Closed-toe shoes must be worn.
Pick-up, only if equipment is available. Lateness on the part of others in failing to return equipment when due can prevent the fulfillment of a booking.
Step One: GIL Find @ Valdosta State University
Please click the Sign In button at the top right of the screen.

Then choose the Valdosta Students, Faculty, & Staff link.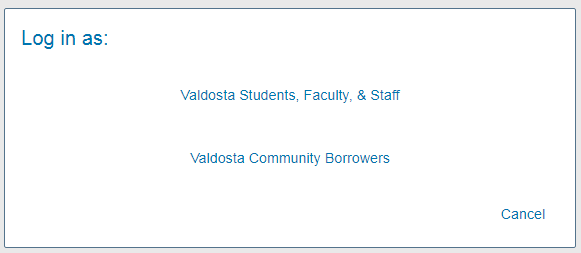 Step Two: Enter any of the below titles into the GIL Find search box:
Step Three: Click on the "Get It" tab, select a specific piece of equipment, then click the "Request" link to complete the booking. Remember to enter days and times when the Cage is open for your request.
Circulation
Reference Services
Administrative Office
New Media Center
Archives
Student Fax
229.219.1362
Administrative Fax
229.259.5055
Campus Address
1500 N. Patterson St. Valdosta, Georgia 31698
Mailing Address
1500 N. Patterson St.
Valdosta, GA 31698

Sun: 12 pm - 12 am
Mon-Thu: 7 am - 12 am
Fri: 7 am - 8 pm
Sat: 12 pm - 8 pm

Odum Library is a Federal Depository Library.