The New Media Center facilitates access to two CREALITY Ender-5 S1 3D printers for students, faculty, and staff. Use of the 3D printer costs 20 cents per gram of print weight as measured after print. Use of the 3D printer can be requested ahead of time or can be done on a walk-in basis if there is an opening for use. Reservations can be made by clicking this link here: Reserve time on a 3D printer. Please note that although the 3D printer is available for both academic and non-academic projects, academic uses will be prioritized over non-academic uses. Please note that we cannot print .STL files that are subject to copyright protection. 
How to get started at the Media Center:
Step 1: Read over the 3D Printer Policies    
Step 2: (Optional) Sign up for the BlazeView 3D Printer Course and pass the quiz with an 80% or higher. The course can be taken at your own pace and does not have scheduled meeting times.

Step 3: Reserve a time to use a 3D printer by filling out the online request form found in the BlazeView course or by clicking here:  Reserve time on a 3D printer.
Enjoy using! Here are pictures that were taken by previous users. Click the image below to go to our gallery.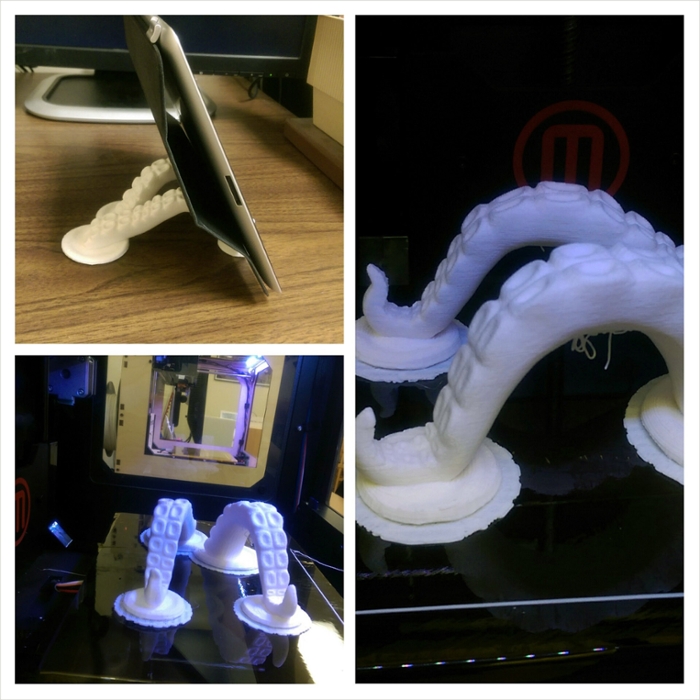 Would you like to submit your picture: 
Steps:
1.) Read the information provided in the following form. 3D Print PhotoWeb Upload Permission Form
2.) Type or print and return to the Media Center via e-mail. (media@valdosta.edu)
3.) Submit your image as jpg or png. Further instruction is shown on the digital form.
3D Printer Policies
The 3D printer is available for use by current students, faculty, and staff of Valdosta State University
The printer may be used for academic and non-academic uses, but academic projects will take priority over non-academic ones.
Printing costs 20 cents per gram of print weight as measured after printing.  
The user will be responsible for covering all material costs whether or not the print completes properly.
The NMC will have a representative who performs printing services.
Use time on the 3D printer can be reserved in advance or if available for the print time needed, can be performed at the time of walk-in.
The BlazeVIEW course shell covering basics of 3D printing and policies governing the use of the printer and passing the quiz in the course is optional.
No firearms or other weapons may be created using the printer.
All objects printed on the 3D printer must not violate the New Media Center's Copyright Policy.
Need an idea for your 3D print?
Software For You:
(3D editing software is not facilitated in the New Media Center. All print requests brought to us must be pre-made before we can print your file. Be sure that your file is in STL format before you bring it.)
Cura - Program to view your STL file before printing
SketchUp Make - Program you can download on your own computer to develop and design a 3D print
Blender - Program you can download on your own computer to develop and design a 3D print
Tinkercad - Program that can be used to design a 3D print solely from an Internet browser like Chrome or Firefox
New Media Center
Odum Library 1st Floor


Entrance via Room 1240

Mailing Address
1500 N. Patterson St.
Valdosta, GA 31698
Fax: 229.219.1362

Mon. - Thur.: 8am-5:30pm
Friday: 8am-3pm
Saturday: Closed
Sunday: Closed