What's New with D2L
What's New with Brightspace (D2L)
Our Brightspace system undergoes regularly scheduled maintenance the first and third weekend of each month. The system will be offline from Friday 10 PM until Saturday 7 AM during these times.
Click here for the schedule.
New in Summer 2018 – D2L Brightspace Daylight
Prior the start of the Summer 2018 semester, D2L will receive a significant visual and interface update: D2L Brightspace Daylight.
New features in the Daylight update include:
Responsive design for mobile devices
Streamlined navigation
Tile based layout for courses
…and more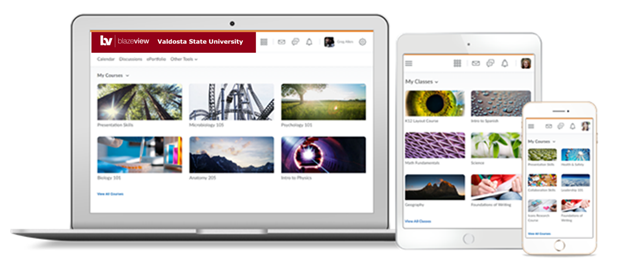 Daylight features the same functionality, sign-in process, and course content available in the classic version of D2L. We will have much more to share prior to the release of this update in May 2018.
Latest Update: 10.7.10 August 2018
The update to 10.7.10 contains updates of 10.7.4 through 10.7.10. See below for the highlights of the changes that come with 10.7.10.  
Current Release Notes
Brightspace Platform August 2018/10.8.4 Current Release Notes
Previous Updates
Brightspace Platform July 2018/10.8.3 Past Release Notes
Brightspace Platform June 2018/10.8.2 Past Release Notes
Brightspace Platform May 2018/10.8.1 Past Release Notes
Brightspace Platform April 2018/10.8.0 Past Release Notes
Brightspace Platform March 2018/10.7.11 Past Release Notes
Full release note can be found here.
January 2018 - 10.7.9
Full release note can be found here.
December 2017 - 10.7.8
New in December 2017
Simultaneous Discussion Posts – Instructors can now post the same message to all discussion groups within a course at once, eliminating the need to post the message multiple times.
Integration with MediaSpace – An updated integration with MediaSpace replaces the "My Media" tool when using the "Insert Stuff function" in the content creation toolbar when posting to discussions, creating written responses and announcements, using create a file, and adding descriptions.

The updated integration is called "Add Media" under the Insert Stuff function. The integration features a more modern interface with a design in line with the standalone MediaSpace web application, including improved features for recording.
Quiz Shuffling – Instructors have the option to shuffle the order questions display to students within a quiz.
Accessibility Checker – Instructors can use a new, built-in accessibility checker tool to review course content for potential accessibility issues. These include missing descriptive text for images, color contrast, accessible table formatting, and more.
Full release note can be found here.
New in June 2017
Assignment: When creating or editing an assignment folder, instructors can now fill in a notification email in the Properties tab.
Announcement: Instructors can link directly to individual announcements by using the Insert Quicklink button from the HTML editor.
Discussions: When viewing discussion topic, the properties are now listed together, directly below the topic's name.

Filtering Options: Filtering options are now displayed in a Filter by drop-down list above individual posts to allow sorting by unread, flagged and unapproved posts.

HTML: Faculty and staff can paste content from MS Word or an HTML site and have the look and feel of the source document.
Intelligent Agents: Brightspace introduces new features and functionality for Intelligent Agents. For details, click here.
Language Management: User Progress tool has been renamed the Class Progress tool. 
229.259.2038
Campus Address
Odum Library
Second Floor - Suite 2621
1500 N. Patterson St. Valdosta, Georgia 31698
Mailing Address
1500 N. Patterson St.
Valdosta, GA 31698