Contact

General VSU Information


  229-333-5800

Office of Communications


  229-333-2157


  229-333-2163


  229-333-7177

Campus Address
Office of Communication, 1120 Powell Hall
Mailing Address
1500 N. Patterson St.
Valdosta, GA 31698
Contact Us
Contact

General VSU Information


  229-333-5800

Office of Communications


  229-333-2157


  229-333-2163


  229-333-7177

Campus Address
Office of Communication, 1120 Powell Hall
Mailing Address
1500 N. Patterson St.
Valdosta, GA 31698
Contact Us
October 23, 2013
13-309
Erica Even, Student Assistant
Fallen Soldiers Honored During National Roll Call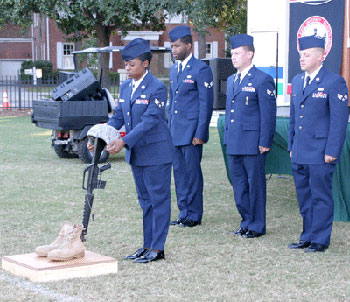 VALDOSTA – For the third year, Valdosta State University joins the National Roll Call project to honor American service men and women by hosting ceremonies across the nation. The Remembrance Day National Roll Call event is sponsored by VSU's chapter of Student Veterans of American (VSU Vets) and will begin at 8 a.m. on Nov. 11 on the steps of the Student Union.
Throughout the day, the names of more than 6,755 men and women who lost their lives in Operation Iraqi Freedom over the past decade will be called in honor and remembrance of their service to America.
Members from Moody Air Force Base will read the names of the Moody fallen airmen.
The VSU Vets are asking students, faculty, staff, community leaders, family members and veteran supporters to volunteer by reading names of the fallen soldiers.
The Remembrance Day National Roll Call is sponsored by the Veterans Knowledge Community of NASPA Student Affairs Administrators in Higher Education. NASPA is a 13,000-member strong association for the advancement, health and sustainability of student affairs professionals. The division of Veterans Knowledge Community advocates for the best practices to help veterans transition and succeed in college.
Contact Mark Smith at marksmith@valdosta.edu for more information about the event. 
Contact

General VSU Information


  229-333-5800

Office of Communications


  229-333-2157


  229-333-2163


  229-333-7177

Campus Address
Office of Communication, 1120 Powell Hall
Mailing Address
1500 N. Patterson St.
Valdosta, GA 31698
Contact Us