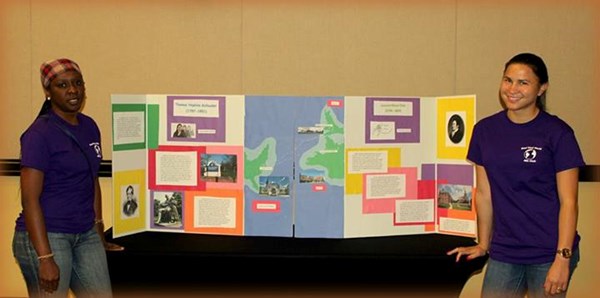 Deaf Studies Minor
Deaf Studies Minor: An Introduction to American Sign Language and Deaf Culture
A minor in Deaf Studies was established by Valdosta State University to provide students with knowledge and skills in American Sign Language (ASL) as well as Deaf Culture, linguistics. Students pursing a minor in Deaf Studies are exposed to the uniqueness of ASL as a world lanugage while acquiring cultural knowledge that will enable them to successfully interact with the American Deaf community. The curriculum is designed to promote a cultural and linguistic understanding of Deaf individuals while encouraging students to analyze existing stereotypes pertaining to this population, so they in turn, can effectiviely educate hearing members of society.
The Deaf Studies Minor is housed in the Department of Middle, Secondary, Reading & Deaf Education within the James L. and Dorothy H. Dewar College of Education at Valdosta State University. Students can enroll in the program as traditional/on campus residents, or complete coursework through distance learning/video conferencing technology. The Department offers undergraduate programs in ASL/Interpreting, Deaf Education, Middles Grades Education, Reading and master's degree preparation in Special Education: Deaf and Hard of Hearing.
Students enrolled in programs such as Sociology, Psychology, Social Work, Counseling, Communication Sciences and Disorders, Criminal Justice, Anthropology, a foreign language, Fine Arts (Music, Dance, Theater, and Film), communications, Education, Exercise Science, Business, Nursing, Mass Media, and other fields of study are highly encouraged to consider this minor.
Department of Middle, Secondary, Reading, and Deaf Education Homepage 
Curriculum (18 Hours)
| | | |
| --- | --- | --- |
| Course | Title | Credit Hours |
| ASLS 2110 | American Sign Language I – The first in a series of courses based on American Sign Language concepts and principles.  This course presents introductory components of ASL, including signs, fingerspelling, mime, body language, and facial expression. Information about the history of sign language and its existence in society today is also included. Skill focus is on recognition and recall of American Sign Language. | 3 |
| ASLS 2120 | American Sign Language II – Prerequisite: ASLS 2110. The second in a series of courses based on American Sign Language concepts and principles. Tis course presents additional components of ASL, including signs, fingerspelling, mime, body language, and facial expression. Skill focus is on recognition and recall of American Sign Language with emphasis on increasing speed and fluency. | 3 |
| ASLS 3170 | American Sign Language III – Prerequisite: ASLS 2120 and INTP 2998 or DEAF 2999. The third in a series of courses based on American Sign Language concepts and principles. This course is designed to increase recognition and recall skills in dialogue communication. American Sign Language idioms are also included as well as a deeper understanding of the grammar, syntax, and complexities within the language. | 3 |
| ASLS 3180 | American Sign Language IV – Prerequisite: ASLS 3170 and INTP 2998 or Deaf 2999. The fourth in a series of courses based on American Sign Language concepts and principles. This class is an advanced course in American Sign Language for students who have completed previous coursework in ASL.  Emphasis is placed on the production of non-voiced, conversational, spontaneous, signed sentences. Continued attention is given to the development of recognition as well as recall skills. Sociolinguistics with specific reference to syntax and the role of non-manual markers and idioms are explored as well as the interplay between language and culture within the deaf community. | 3 |
| DEAF 3100 | Orientation to Deaf Education and Language Learning – Prerequisite: INTP 2998 or DEAF 2999. An overview of the field of deaf education, with an emphasis on language development in children and adults who are deaf. Topics include anatomy and physiology of the ear, language modes, assessment instruments, and other topics pertinent to the field. Emphasis is placed on flexibility in using different modes of communication as they relate to stages of language development. | 3 |
| DEAF 3150 | Deaf Community, Culuture, and History – Prerequisites ASLS 3170, ASLS 3180, and INTP 2998 or DEAF 2999. Overview of the historical and cultural aspects of the Deaf community and the patterns of social change during the 19th and 20th centuries. Students will be exposed to ASL literature, including folklore, fiction, nonfiction, and drama. | 3 |