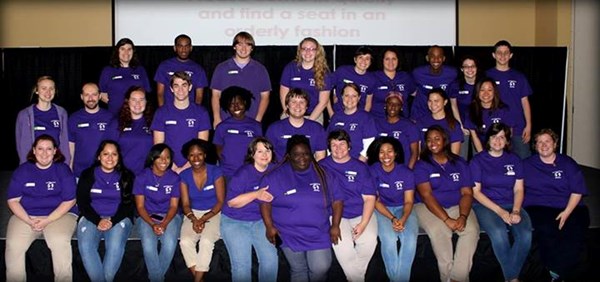 American Sign Language/English Interpreting
B.S.Ed. in American Sign Language/English Interpreting Program Flyer
The Bachelor of Science in Education degree in American Sign Language/English Interpreting is a rigorous program that prepares students to work as professional interpreters, ensuring communication access in a variety of settings wherever hearing and D/deaf or hard of hearing people come together. Our graduates go on to work in K-12 and post-secondary public educational settings, as well as other community, freelance, and staff interpreting positions. 
Valdosta State University is the only college in Georgia to offer a Bachelor's Degree in American Sign Language/English Interpreting. Because of a critical shortage of American Sign Language interpreters, students in the Valdosta State program are in high demand, and the university boasts a 95-percent job placement rate for graduates. The degree program may be completed online (for Georgia residents) or on campus, where classes average approximately 15 students. Students gain hands-on experience by participating in fieldwork, service learning, and internships. 
For additional information regarding the B.S.Ed. in ASL/Interpreting, please contact:
Christia Williams, CI, M.Ed-IPDept of Middle, Secondary Reading, & Deaf Ed
Valdosta State University1500 N. Patterson St.Valdosta GA, 31698Phone:  229-249-4957VP:  229-375-5951Email:  
ctwillia@valdosta.edu
Department of Middle, Secondary, Reading, and Deaf Education Homepage 
For additional Information on the Interpreting Profession:
Georgia Registry of Interpreters for the Deaf
Registry of Interpreters for the Deaf
229.333.5963
Campus Address
Education Center
301 Baytree Road
Room 1045
Valdosta, GA 31698
Mailing Address
1500 N. Patterson St.
Valdosta, GA 31698
Monday-Thursday
8:00 a.m.-5:30 p.m.
Friday
8:00 a.m.-3:00 p.m.