MLIS Department News
---
April 9, 2015.  VSU alumna Tracy Walker was named the "Biggest Fibber during the 239th Big Fibbers Storytelling Festival on March 21-22 in Rome."  She competed against 14 other storytellers.
To read more head over to the Gainesville Times.
---

March 19, 2015. VSU alumna Camille Ann Brewer has been named the Executive Director for the Black Metropolis Research Consortium in Chicago.  According to the article, written by the University of Chicago, the Black Metropolis Research Consortium is a "Chicago-based association of libraries, universities, and other archival institutions that document African American and African diasporic culture, history and politics, with a specific focus on materials relating to Chicago."
To read more from the article click here.
---
March 10, 2015.  Amanda Davis, a 3rd year MLIS student has recently been awarded a fellowship from the Association of Research Libraries Career Enhancement Program (CEP).  According to their website CEP offers "traditionally underrepresented racial and ethnic minority groups an opportunity to jump-start their careers in research libraries" via "a robust internship experience."  Davis's internship host institution is North Carolina State University.
Click the links for more information on the Association of Research Libraries and their Career Enhancement Program.
---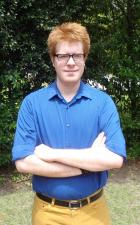 November 25, 2014. MLIS graduate John Mack Freeman has been named one of ALA's Emerging Leaders for 2015 http://www.ala.org/news/press-releases/2014/11/class-2015-emerging-leaders-announced .  Mack previously received ALA's 2014 Gordon M. Conable Conference Scholarship to participate in the 2014 ALA Annual conference in Las Vegas  http://www.ala.org/news/press-releases/2014/04/john-mack-freeman-awarded-2014-gordon-m-conable-conference-scholarship . Mack now works at the West Georgia Regional Library as the Marketing and Programming Coordinator.  http://westgeorgiaregionallibrary.wordpress.com/2014/09/24/meet-our-wgrl-staff-mack-freeman/ Before graduating and moving to West Georgia he worked at the Tifton-Tift County Public Library.  Mack is also active in the Georgia Library Association and serves on their Scholarship Committee.
---
October 15, 2014, MLIS Program Ranked Nationally, Named a Best Buy
VALDOSTA — The online Master of Library and Information Science (MLIS) program at Valdosta State University has been named a Best Buy by the experts at GetEducated.com.
VSU's MLIS program was among 23 similar online degree programs across the nation to be independently reviewed. Of those, 12 were found to offer a high quality education at a cost that ranks well below the national average.
To read more of the article click here.


---
August 19, 2014.  MLIS Professor Dr. Anita Ondrusek receives VSU's inaugural Teaching Excellence Award for Online Teaching. 

August 18, 2014, VSU MLIS alumni are prominently featured in the Summer 2014 issue of the Georgia Library Quarterly, V. 51, Issue 3, available at http://digitalcommons.kennesaw.edu/cgi/viewcontent.cgi?article=1814&context=glq 
2014 graduate Karin J. Fulton has had her Capstone paper published. The paper is titled "The Rise of Patron-Driven Acquisitions: A Literature Review" and can be found on pages 22-30 of the journal.
Eli Arnold, a 2012 MLIS graduate who is now a reference librarian at Oglethorpe University, reviewed The Oglethorpe Plan: Enlightenment Design in Savannah and Beyond by Thomas D. Wilson, University of Virginia Press, 2012 (GLQ, Summer 2014, pp. 52-53).
Alumni News reported in the 2014 Summer GLQ:
Dr. Wendy Wilmouth -- who earned both her MLIS and her doctoral degrees at VSU – became the Director of Learning Resources at Georgia Piedmont Technical College in January 2014 (GLQ, Summer 2014, p. 40). 
Alumni Lindsay Cronk (Lyrasis), Melissa Perez (Georgia State University) and Ariel Turner (Kennesaw State University) were selected to present a Conversation Starter at the 2014 ALA Annual Convention in Las Vegas.  They were the 2013 co-chairs of the Atlanta Emerging Librarians and they presented on their experiences over the year.  Alumni Benji Barton also contributed to the presentation's content though he did not attend the conference (GLQ, Summer 2014, p.39).
And finally, VSU MLIS alumni are running for 2015 offices for the Georgia Library Association (GLA) and the Southeastern Library Association (SELA). Their profiles can be found on pages 43 – 48.


---
On July 1, 2014, the Master of Library and Information Science Program will become the Department of Library and Information Studies. In addition to the name change, the Department will become a part of the Dewar College of Education and Human Services.  This will be an administrative shift from the Dean of the Library. The Department Head will answer to Interim Dean of Education and Human Services Brian Gerber.  Departmental Offices will remain on the fourth floor of Odum Library. All telephone numbers and email addresses will also not change.
The degree program will not change nor will the degree name: Master of Library and Information Science. It is expected that students will not experience any changes in the curriculum. The application, advising, and teaching processes are to remain unchanged.
The administrative shift resulted from the continuing self-study the MLIS faculty has undertaken. The CoEHS possesses program assessment and other evaluative resources not held by the Library. The Department of Library and Information Studies will draw upon those resources as it continues on-going accreditation work. These resources should provide a sounder basis for continuing growth of the department.
Program Director and Professor Wallace Koehler announced his intention to retire from Valdosta State University on July 31, 2014. He joined the VSU faculty in 2001 when he was one of three faculty members to welcome the first class of nine students into the MLIS Program. Dr. Koehler received his MS in Information Science from the University of Tennessee in 1997 and his PhD in Government from Cornell University in 1977. The MLIS faculty thanks Dr. Koehler for his distinguished service to the university, the department and our students. 
Dr. Linda Most will become the interim Department Head. The search for a permanent department head is planned to begin in Fall 2014.