News and Events
Dr. Obiakor Officially Releases Newest Book!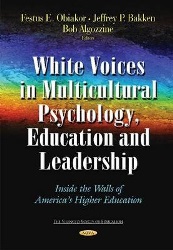 Dr. Festus Obiakor, Head of Department of Early Childhood and Special Education  Valdosta State University, has officially released his newest book titled "White Voices  in  Multicultural Psychology, Education, and Leadership: Inside the Walls of America's  Higher Education." His book brings "White voices" into the multicultural education  conversation.






Dr. Gina Doepker recently received the Valdosta State University Award for Excellence in Service.
Dr. Doepker was recognized for her outstanding service to the university and region.

Congratulations Dr. Doepker!        
Dr. Alicja Rieger was recently elected to the position of president-elect of the
Georgia Association of Teacher Educators (GATE),
the state affiliate of the Association of Teacher Educators.
Congratulations Dr. Rieger!

  
Thanks to our Student Teaching/Clinical Practice and Practicum Partners for Spring 2014
The Early Childhood and Special Education Department would like to acknowledge and thank the following school districts and schools for providing practicum experiences and student teaching/clinical practice opportunities for our teacher candidates during the spring 2014 semester:
 
Lowndes County Schools
Dewar Elementary
Lake Park Elementary
 
Valdosta City Schools
Pinevale Elementary
S.L. Mason Elementary
W.G. Nunn Elementary
VSU Alumna Amanda Miliner: Georgia Teacher of the Year
Amanda Kozak Miliner has been named the 2015 Georgia Teacher of the Year. Amanda, a former Miss Georgia, graduated from Valdosta State University with
a degree in Early Childhood Education.
In her application, Amanda stated, " As great as these accomplishments are they are not what I'm most proud of. I am most proud of the fact that I can stand before my students as an example of what hard work and determination can do. I also am proud to stand before my peers as a proud educator who is blessed to work in a profession where each day is meaningful and relevant."
As Georgia Teacher of the Year, she will represent and serve as an advocate for
public education in Georgia.
CELEBRATION OF STUDENTS 
Thursday, April 24, 2014 
Jennett Lecture Hall
Keynote Speech at Valdosta State University (VSU) Academic Honors and Awards Dinner delivered by:
Festus E. Obiakor, Ph.D., Department Head and
Professor, Early Childhood Special Education
                                    "Seeing Beyond the Eyes:" In Honor of Hard Work and Dedication      
In 2008, I wrote a book titled, 100 Multicultural Proverbs (Obiakor, 2008a) published by Corwin Press. Though people were excited about this book, they were exceedingly excited about the    dedication. I dedicated the book to those who not only see with their eyes, but also see with their head, ears, and mouth; those who not only speak with their mouth, but also speak with their eyes, ears, and head; those who not only hear with their ears, but also hear with their mouth, head, and eyes; and those who not only think with their head, but also think with their eyes, ears, and mouth. This dedication generated several interpretations; and I welcomed them. After all, the goal of any scholarly work is to engender and stimulate discourse.
Today, we live in a complex world; and technology has endeavored to make it simpler. But, one can argue that the same technology is making the world more difficult. One can go to the internet today and see all kinds of retrogressive activities that do not advance our society and our world. My take is simple: I am neither a supporter of laggards (anti-progressive people) nor a supporter of iconoclasts (people who destroy beliefs and institutions). I try to encourage meaningful change that advances our society and our world. Many of us have stopped seeing, talking, hearing, and thinking. We have stopped seeing the beauties in all of us; we have stopped talking—we now text all the time; we have blocked our ears from hearing anything positive about our society and world; and we have stopped thinking about productive futuristic solutions. Sadly, if you listen to talk radio today, the more diabolic you are, the more we hear your voice. Meaningful "seeing, talking, hearing, and thinking" are slowly losing their ways. We are now consumed by the mentality of wanting the instant gratification—"I want it and I want it now for me, myself, and I" seems to be the modus vivendi (i.e., way of life).
The good news is that even though it does appear that we are losing our way, hard work and dedication are still very honorable in our society and our world. Are we not here today to honor those who have excelled despite all odds? From my perspective, it takes hard work and dedication to "see beyond the eyes." In this regard, some critical questions deserve our attention. How can we value our multicultural world if we see our world narrowly? How can we respect our multidimensional talents if we see our talents narrowly? How can we value our inter-individual and intra-individual differences if we see our differences narrowly? How can we be excited about learning new things if we see our learning narrowly? How can we cherish our sacred existence as human-beings if we see our existence narrowly? I dare to say that if we do not broaden our horizons and get outside our comfort zones, we will be destined to fail as humans in an increasingly complex society. This is the premise of my presentation.
                                                              Beyond Our Narrow Confines
Life is like a big elephant; you might be able to see one side of it. However, to see all its sides, you have to walk all around it. People tend to make judgments based on one experience. In fact, in research, we make similar mistakes by using small samples of populations to draw conclusions. Sadly, even when we acknowledge these limitations, we still generalize based on our biased findings. We must recognize that generalizability problems exist in all that we do.  This should force us to try to see more and do more! In other words, it is difficult to assume how intelligent or unintelligent someone is, especially if one uses an instrument that lacks validity and reliability (Obiakor, 2001). It is common knowledge that tests are not good predictor variables of how a human-being can succeed in life. I argue that without hard work and dedication, success will far-fetched for any human-being despite his/her test scores.
In our society today, we seem to be in a hurry even though we are hurrying to nowhere. We have continued to make traditional assumptions about Blacks, Whites, Latinos, Asians, and Native Americans even though we know that these assumptions are prejudicial, biased, bigoted, and xenophobic (Obiakor, 2008b). In America, we have continued to make untrue assumptions about the North, South, East, and West even though they are counter-productive to our socio-political realities. We have continued to define "goodness" from narrow racial, cultural, linguistic, and socio-economic perspectives (Obiakor, 2001). We have continued to misidentify, misassess, mislabel/miscategorize, misplace, and misinstruct some of our students because they look, talk, and behave differently (Obiakor, 2008b). We have continued to manage our students' behaviors using the Hobson's choice (a "no-choice" choice) (Obiakor, 2012). We have continued to use special education as a "placement" opportunity instead of an "intervention" opportunity (Obiakor & Smith, 2012). And, we have continued to waste so much money to send our youth to jail instead of investing in their education. Literarily, we have continued to police the behaviors of others instead of policing our own behaviors. In some funny way, we seem to be playing "God." Sadly, the more puritanical we get, the more we seem to forget the complexities of our world.
To go beyond our narrow confines, we must begin to acknowledge our human talents as well as our human limitations. On the one hand, we might be smarter than we think we are. On the other hand, we might not be as smart as we think we are. And, that is life! We must continue to challenge our traditional assumptions and look for multidimensional ways to solve problems. It is imperative that we collaborate, consult, and cooperate (3Cs) as needed and be less puritanical on how we see ourselves and others. In the end, we must believe in "quality with a heart" as we look inside and outside the box!
                                                                             Conclusion
To see inside and outside the box (in this case, "beyond the eyes"), we must:
Know our strengths and weaknesses,
Learn the facts, when we are in doubt,
Change our thinking,
Use resource persons,
Build self-concepts,
Learn/work/teach with divergent techniques,
Make the right choices, and
Continue to learn.                                                                          
                                                                             References
Obiakor, F. E. (2001). It even happens in "good" schools: Responding to cultural diversity in today's  
              classrooms. Thousand Oaks, CA: Corwin Press.
Obiakor, F. E. (2008a). 100 multicultural proverbs: Inspirational affirmations for educators. Thousand      
              Oaks, CA: Corwin Press.
Obiakor, F. E. (2008b). The eight-step approach to multicultural learning and teaching (3rd ed.). Dubuque,
              IA: Kendall Hunt.
Obiakor, F. E. (2012). Hobson's choice: Illusory intervention choice for culturally and linguistically diverse
              learners with problem behaviors. In J. P. Bakken, F. E. Obiakor, & A. F. Rotatori (Eds.), Behavioral
              disorders: Identification, assessment, and instruction of students with EBD (pp. 221-231).
              Bingley, England: Emerald Group.
Obiakor, F. E., & Smith R.  (2012). Special education practices: Personal narratives of African American
              scholars, educators, and related professionals. New York: Nova Science Publishers.

Carolyn Gish Recognized for Caring!
 Carolyn Gish was honored with the "I Caught You Caring" card. The award recognizes  exceptional service and is a result of someone on campus nominating an employee. A student  had  nominated Ms. Gish's name along with a written description of how Ms. Gish  had helped her throughout her first year in the program.
Congratulations Ms. Gish!